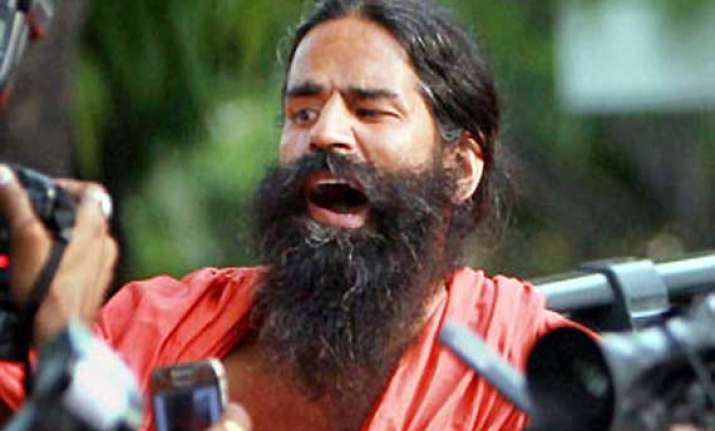 Chandigarh, Jun 9: Yoga master Ramdev today threatened to launch a mass stir from August nine if the UPA government did not take effective steps for establishment of a strong Lokpal and in bringing back black money stashed abroad.
"The government is not taking result-oriented steps to bring back black money. It is also not doing enough for setting up an effective Lokpal to rein in corruption.
"They will have to do these two things. Otherwise on August nine, we will launch a stir with support of crores of people of this country," Ramdev said.
Quit India movement was launched on August nine, 1942.
"We will only relent when the black money will come back and the country gets a strong Lokpal. Otherwise, I am ready to pay with my life," he said after taking a round of world famous Rock Garden here.
The August nine stir would be "100 times bigger" than what the country witnessed at Ram Lila ground, Ramdev said.
"It will be a fight to the finish, a decisive battle.  I can only say we will fight even if we have to give up our life for the nation and its people."
The yoga guru went round the Rock Garden, made of common household and other waste material, and met its creator Nek Chand.
Earlier, the Yoga guru had a meeting with Punjab Chief Minister Parkash Singh Badal here.
Lashing out at the UPA government, Ramdev said "it is not taking effective steps to bring back black money. Not a single rupee will come back from the steps the government is taking."
He said the treaties which India had with other nations would not help in bringing back black money.
On coal block allocation, Ramdev said "50 billion tonnes of coal were given at throwaway prices to some private companies. This amounts to deceiving the country."
On the functioning of CBI, he said "barring one or two occasions, the CBI has worked as a puppet of the government."
"The ruling party uses the CBI to terrorise opposition leaders. Till it is made completely free, no probe carried by it can be fair."
On Congress leader Digvijay Singh asking him to declare the black money he possesses before launching an anti-graft campaign, Ramdev said "if the Prime Minister, the Congress President or Rahul Gandhi ask me, then I will see. But, I have nothing to say to him."
On his meeting with Nek Chand, Ramdev said "I have travelled around the world from Japan to Middle East to Europe, but Nek Chand has done special work."
Chief Minister Badal assured full support to Ramdev on his proposed stir from August nine to bring back black money stashed abroad.
Interacting with mediapersons along with Ramdev, Badal said the Centre had hardly taken any step to bring the black money which could be utilised for funding welfare schemes for the poor.
The SAD patriarch told Ramdev that his party MPs would take up the issue in the upcoming session of Parliament.