Follow us on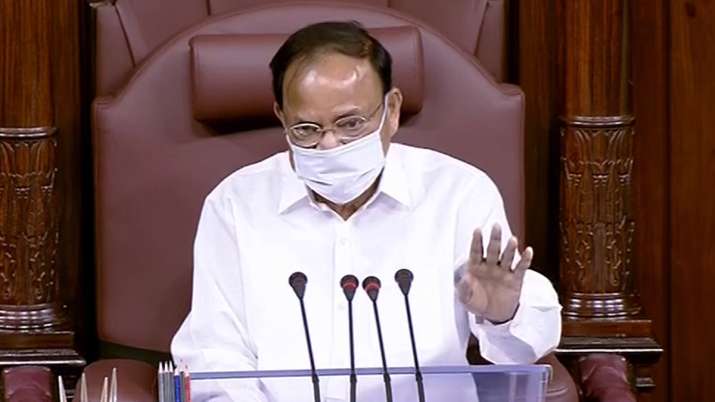 Rajya Sabha Chairman M Venkaiah Naidu on Wednesday expressed concerns over the Opposition leaders' behaviour in the House Yesterday. As the House met to transact business, the Chairman got emotional as he spoke about yesterday's ruckus.
Expressing deep anguish over some opposition MPs climbing on the table in the House, Naidu said that he couldn't sleep because of the sacrilege in the "temple of democracy".  Referring to Tuesday's events, Naidu said he struggled to find a provocation or reason for the low in the "august House".
Parliament, the apex legislature of the country is regarded as the "temple of democracy", he said. The table area where the officers and reporters of the House, the secretary general and the presiding officer are seated is considered the holy sanctum sanctorum of the House, an emotional Naidu said as the Rajya Sabha assembled for the day. 
"I rise in deep anguish to place on record the way this august House is being subjected to sacrilege and that too propelled by a sense of competition among some sections of the House since the commencement of this Monsoon Session," the Rajya Sabha chairman said. 
"I have no words to convey my anguish and to condemn such acts. As I spent a sleepless night last night, I struggled to find the provocation or reason for forcing this august House to hit such a low yesterday," he said.
Earlier on Tuesday, ugly scenes were witnessed in Rajya Sabha as Opposition MPs climbed on the officials' table, waved black cloth and threw files when the House began a discussion on farmers' protest against new reform laws. Several MPs stood on the table where the parliamentary staff sits right below the chair, while others crowded around it shouting anti-government slogans. A few members squatted on the tables for over one-and-half hours during which proceedings were adjourned multiple times.
Meanwhile, Lok Sabha Speaker Om Birla adjourned the House sine die as Opposition MPs created ruckus. The session was originally slated to culminate on August 13.
READ MORE: Lok Sabha session cut short, Speaker says 'hurt because of continuous disruptions'
READ MORE: 'All is well in party': Nitish Kumar dismisses speculations of factional feud in JDU