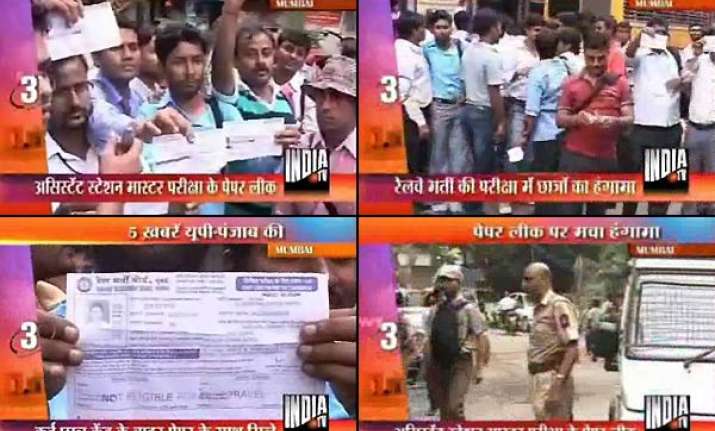 Mumbai, July 25: The nearly 1,000 posts of assistant stationmasters for Central Railway seem to be jinxed as the exam paper was found leaked on Sunday afternoon.

Railway Recruitment Board  had called for a re-examination on Sunday after an earlier  paper leak last year.

On Sunday afternoon, applicants forced the cancellation of  the all-India written exam at Valia Chhaganlal College of Commerce in Andheri claiming the question paper was leaked again.

The protesting applicants were supported by Bharatiya Vidyarthi Sena (BVS) members — the students' wing of the Shiv Sena.
During the examination, a few applicants noticed that one Rajkumar Patil had with him the answer sheets of the three question papers that are drafted by the Board.

The 100 examinees in the examination hall created a ruckus and handed Patil over to the police.

"Patil entered the examination hall 30 minutes late. When we saw that he had photocopies of the three answer sheets, we raised an alarm. One of the answer sheets matched the question paper that was given to him," claimed Priya Patil, 23, a BVS member who was giving the exam at the Andheri centre.

The DN Nagar police have corroborated the version. They questioned Patil, but did not clarify if they will arrest him.
Bharat Valia, trustee of the Andheri college, said: "It is not our responsibility. The exams are conducted by the Railway Recruitment Board and it was their supervisor who found the malpractice."

Attempts to reach the Mumbai office of the Railway Recruitment Board proved futile as the enquiry number was non operational. No official statement was issued either.

Now, the future of the 1,009 applicants at the Andheri centre is in a limbo because they could not complete their exam.

The BVS and applicants have demanded that the exam be held again.