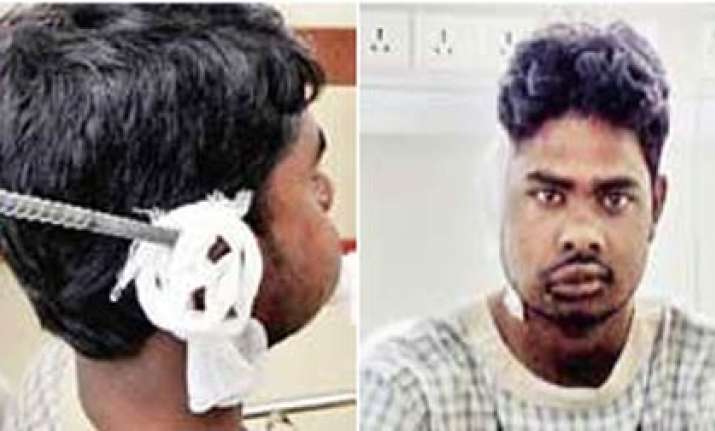 Pune, Feb 3 : A construction worker in Pune, Sujit Basra, 22, survived after a three-feet long sharp-edged iron rod suddenly dropped like a spear, went through his ear and split his mouth open, reports Pune Mirror.The mishap  took place on January 19.
Sujit said, "I was working as a labourer at a construction site completely unaware that this day would turn out to be the worst day of my life. After finishing my work, the moment I stepped out of the site, I was hit by a falling iron rod." 
Basra was rushed to the Aditya Birla Memorial Hospital by the construction workers and the contractor. A team of experts under Dr. Anurag Naik and Dr. Paramjit Singh Garcha immediately swung into action.
"The rod had entered Sujit's body from behind the right ear, penetrating and fracturing the top of the mastoid bone. It exited from his face tearing the corner of his mouth and lower lip. He was in terrible pain with a swollen face and bleeding profusely," said Dr. Naik.  
After an initial survey of the wounds and emergency X-Rays, he was wheeled to the operation theatre. Medical protocol is that the impaled (penetrated) object has to be removed only in the operation theatre and after ascertaining the damage it has done.
Dr. Naik further added, "Injuries with a penetrating object lodged in the body are known as impalement injuries and are extremely rare in surgical trauma practice. The majority of these injuries are fatal and very few are lucky to reach the hospital and receive prompt and correct treatment in order to survive these injuries. The rod was extracted carefully and the bleeding was stopped."
 "All the wounds were repaired. Post operative care was very important as the rod had injured the patient's face and lips. He was kept on a liquid diet. He has now been discharged from the hospital and is back to doing the day-to-day chores of his life. God was truly on his side. The operation continued for an hour. If the rod had penetrated through any other angle, it could have impaled his eyes, nose or brain which could have been fatal," Dr. Naik concluded.
As far as Sujit is concerned, he is happy to be back with his family. "It is a miracle that I am alive. The time I was hurt, I had lost all hope but I am grateful to the doctors who treated me and gave me a new life," he said.