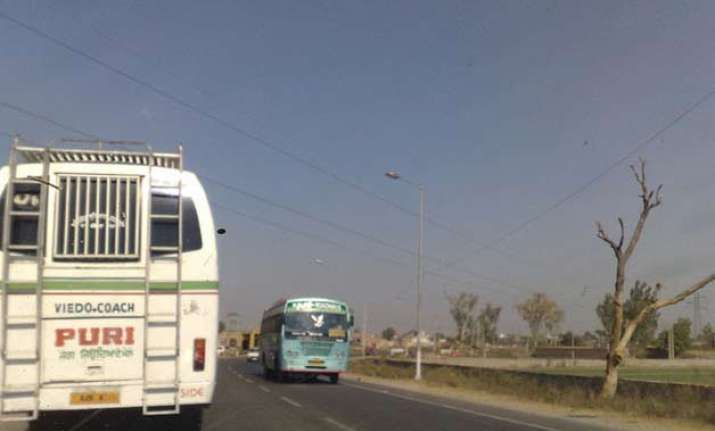 Chandigarh: Private bus operators in Punjab today withdrew their strike which they had called over the alleged "haste" shown by state police in registering cases against their drivers and conductors, following an assurance by police that nobody would be arrested without proper probe. 
The private bus operators had gone on a statewide strike today, hitting transport services in the state, alleging that police were registering cases against private bus drivers and conductors on the basis of "fake" complaints.  
They observed the strike a day after a case was registered against a private bus conductor on a complaint filed by two minor sisters who alleged that they were harassed by the conductor in Muktsar district.
"As many as 4,500 buses were off the roads today in the state. We were protesting against false cases being registered by police against our drivers and conductors even without proper investigation," Punjab Motor Union (an organisation of private buses) General Secretary Rajinder Singh Bajwa said.  
"As a result of which, there is a strong resentment among our staff and private bus owners. That is why we went on strike," Bajwa said.
Bus drivers and conductors of private buses held protests at various places including Muktsar, Bathinda, Faridkot, Amritsar, Patiala, Rajpura, Khanna, Jalandhar in the state and blocked roads leading to bus stands, causing traffic snarls.
With about 4,500 private buses remaining off the roads across the state, commuters had harrowing time as they faced problems in reach their destinations.  
Though state-owned Punjab Roadways and PRTC were plying their buses, their bus services were also hit at a few locations because of roads leading to bus stands remained blocked by protesters.
"We want assurance from the state government that proper investigation be done into complaints relating to harassment or molestation before registering a case against a bus conductor or driver," said Hardeep Singh Dhillon, owner of New Deep bus service.
"If the complaint is found genuine then accused should be arrested. But nobody should be arrested or booked on the basis of false complaints," he demanded.
It was New Deep bus service whose conductor was booked by police following a complaint of harassment lodged by two minor sisters yesterday in Muktsar district.
Later in the day, the bus operators called off their strike after state police assured them that nobody would be arrested without proper investigation.
"We have called off our strike as police have assured us that no private bus driver or conductor will be arrested without conducting thorough investigation," Bajwa said.  
A meeting between private bus operators and senior police officials including DIG (Bathinda Zone) Manish Chawla held in Bathinda following which bus operators withdrew their strike, said bus operators.
"In our case, we have been assured that proper inquiry will be done and if complaint found to be false then FIR shall be registered against the complainants," said Dhillon.  After strike was called off, private bus services resumed across the state, they said.
A teenage girl died after she was molested and thrown off along with her mother from a moving bus last month, sparking widespread protest in the state by political parties and social organisations against private bus services in the state.
Yesterday, another case of alleged harassment of two minor sisters in Muktsar district came to light, following which a case was lodged against the private bus conductor.