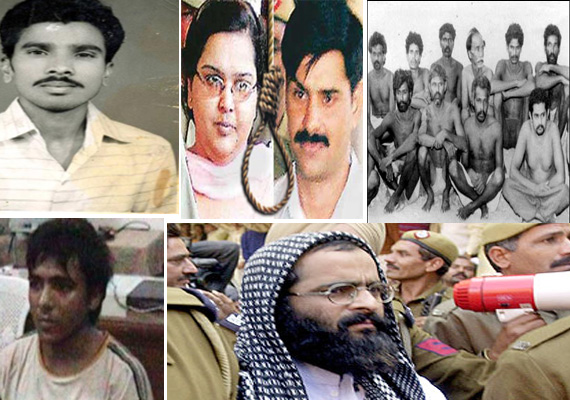 New Delhi, Apr 13 : There was a long delay in deciding mercy pleas by the Presidents, which was also highlighted by the Supreme Court today, but the situation changed when Pranab Mukherjee took charge on July 25 last year, disposing of petitions of 16 condemned prisoners within nine months.
The petitions for clemency filed by sandalwood smuggler Veerappan's elder brother Gnanaprakash and his aides Simon, Meesekar Madaiah and Bilavendran were rejected by Mukherjee on February 13. The four had then obtained a stay on their execution from the apex court on February 18.
Besides the four, the others whose mercy pleas have been rejected by the President since taking charge are -- Suresh, Ramji, Gurmeet Singh, Praveen Kumar, Sonia and her husband Sanjeev, Sundar Singh, Jafar Ali, Dharampal and Saibanna Ningappa Natikar.
Except Dharampal and Natikar, the others had moved the apex court on April 6 and obtained a stay on their execution for four weeks.
Mukherjee also commuted the death sentence of two death row inmates, including Atbir, to life imprisonment.
Atbir was convicted for murder of his step-mother, step-sister and step-brother over property.
Dharampal was convicted for murdering five members of the family of a girl he had raped. He had committed the murders while out on parole in the rape case.
Sonia and Sanjeev were awarded death penalty for killing eight members of her family, including her parents and three children of her brother in 2001.
Gurmeet Singh was convicted of killing 13 of his family members in 1986. Jafar Ali had murdered his wife and five daughters. Suresh and Ramji killed five of their relatives.
Natikar was awarded death penalty for killing his wife and daughter, Praveen was convicted for killing four members of a family in February 1994 and Sundar Singh was convicted for murder of five members of his brother's family in June 1989.