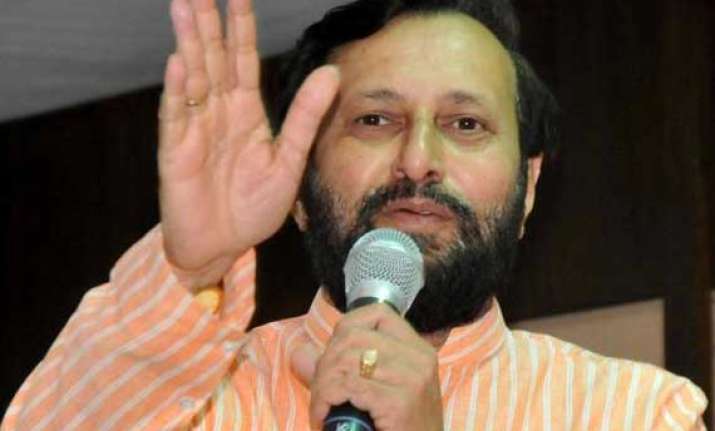 New Delhi: Giving "utmost priority" to country's security without compromising on environment, the Environment ministry has decided to vest more power in states to give regulatory nods for building defence installation within 100 kms of Indo-China border.  Environment minister Prakash Javadekar today said that his ministry has recently taken several important decisions to simplify the procedure to grant forest clearance both at the China as well as Pakistan border.
For addressing the security and strategic interests of the nation, general approval for diversion of forest land required for construction and widening of border roads within 100 km of Line of Actual Control (LAC) has already been accorded, he said.
A similar grant of general approval for diverting forest land for setting up strategic defence installations and infrastructure like army stations, ammunition depot along 100 kms of LAC was also also under "active" consideration by his ministry.
He said that although grant of general approval has been accorded for this, the official announcement would be made in a few days.
"On China and Pakistan border, we are making robust arrangements. If such robust arrangements are being made, then there will be training centres, schools, ammunition depot...  the strategic defence installations and infrastructure...  "For constructing one army station, one police chowki, the files will come to the Centre. I could not see that. So these files too will not come to Central ministry. These too will be in general approval. Its decision officially will done in a few days," Javadekar said after launching a web portal for submission of online forest clearance.
At the same time, the environment minister also stressed upon his government's bid to facilitate states in effectively tackling Left Wing Extremism (LWE).  "General approval under the  Forest (Conservation) Act, 1980 for diversion of up to five hectares of forest land for construction of public roads has also been extended to the 117 LWE affected districts," Javadekar said.  
"Creation of good road network along the LAC will help our defence forces to guard the international borders more affectively," Javadekar said adding that construction of around 6000 km of border road were found pending earlier.
Javadekar said that he had seen that on the Chinese side of the border all roads there were constructed but the environment was not degraded.
"Why will it get degraded on our side? Wherever diversion of forest has to be done, we will do it. But for that each file has to come to the central environment ministry and kept pending for years, this was not acceptable to me," he said.  
The minister said with a view to ensure speed up the laying of transmission line projects, the general dispensation available for undertaking compensatory afforestation over degraded forest lands so far available to transmission lines up to 220 KV has been extended to all kinds of transmission lines.
He said his ministry has taken some good initiatives and done some basic policy framework.
"We want to make decisions not by seeing the face of the applicant. We want to make the process transparent. Whatever the decision is, it will be a policy-based and not a personality-based. That is what good governance needs," he said.