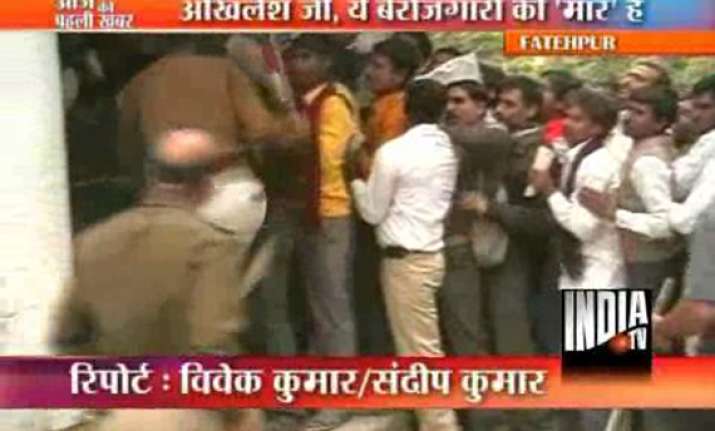 Kanpur /Fatehpur (UP), Mar 13: The police had to lathicharge to control a mob of people seeking unemployment allowance at the employment exchange in Kanpur and Fatehpur on Monday.

During the elections Samajwadi Party, in its manifesto, declared that they will provide allowance to the unemployed people.

After Samajwadi Party's win in UP assembly elections, more people are gathering at the employment exchanges throughout the districts seeking unemployment allowance.

There was hardly any police official to manage the crowd and the situation went out of control. The youth resorted to ruckus.

The situation went worse when group of youth entered into clash, abusing each other.
The male students were annoyed that the clerks of the employment office were not depositing their registration forms and helping the female counterparts. This led to chaos and the students disturbed the queue which had been extending for over half-a-kilometre.

The police from various stations reached the site and resorted to lathicharge. The students ran for cover. Many received minor injuries. The girl students escaped from the scene.
Chaos prevailed there. The students raised anti-police and administration slogans and resorted to brick-batting. They tried to block the main GT Road and hurled abuses at the passersby.
The police again used force to control the mob. Several students lost their original marksheets. Some girl students received injuries and left the spot.

ADM city SK Singh reached the spot and asked the students to have patience. He told them to co-operate so that the registration task could be done easily.

The boys said that the clerks of employment office kept them standing in the long queues and were not attending them. They said that the forms of girl students were accepted by the clerks.

Since early morning, thousands of students from class X to post-graduate level started reaching the employment exchange for filling the registration form.
The graduate unemployed students, who would be registered with the employment exchange are entitled for employment allowance of Rs 1,000 per month. But unaware of this fact, the students of classes X, XII and under-graduates also reached the employment office.

The scene in Fatehpur was not too different than that in Kanpur. Police had to resort to lathicharge to control the people causing commotion.