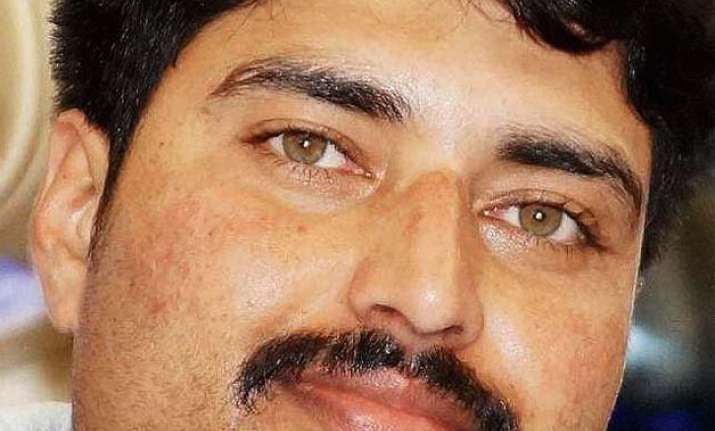 Indore:  A day after Vyapam scam whistleblower Prashant Pandey's wife was briefly detained and Rs 9.96 lakh alleged hawala money was seized from her, MP police today denied Pandey's charge that they had acted in vendetta.
"The law of the land treats all citizens equally, whether it is a whistleblower or any other person. If policemen indulge in wrong doings, an FIR is registered against them and they face enquiries. If found guilty, they are dismissed from their services," Additional Director General of Police Vipin Maheshwari told a hurriedly convened press conference in today evening.
When asked if Pandey had accused the police of acting in vendetta against his wife Meghna at the behest of the state government, since he had blown the lid off the Vyapam scam by touching upon its different aspects, the police official advised, "He should come forward and co-operate in the investigation to ensure that the case is disposed of quickly".
Based on a tip-off from an informer about hawala transactions at Laxmi Motors, a private firm situated near the Jawaharlal Nehru Stadium, the police kept a vigil and noticed Prashant's wife Meghna, who works as a human resources manager at the firm, exiting her office with a bag yesterday, the police official said.
Women police officers searched Meghna's bag and found Rs 9.96 lakh in cash about which she couldn't give a satisfactory explanation, after which it was seized under Section 102 of the Criminal Procedure Code and the local Magistrate was informed about it, he said.
 
The police official said that Meghna was allowed to go without being arrested and any hawala transaction is being probed threadbare.
The police had informed the Income Tax Department and the Enforcement Directorate (ED), and a probe is on, he said.
However, Prashant Pandey maintained that the police action was illegal and the cash seized is their own hard-earned money.
"My family is being harassed at the behest of the MP state government after the Supreme Court ordered a CBI probe into the Vyapam scam and mysterious deaths related to it," Pandey said.
His family had earned this money by working hard for ten years and it was mentioned in their IT returns, he said.  "We live in a rented flat. We were supposed to give Rs 10 lakh to a real estate developer to book a flat," he said.  
Pandey had provided several documents about the Vyapam scam, related to widespread rackets in recruitment and professional courses entrance tests conducted by the Madhya Pradesh Professional Examination Board.  He has also filed a petition in the Supreme Court on the issue.