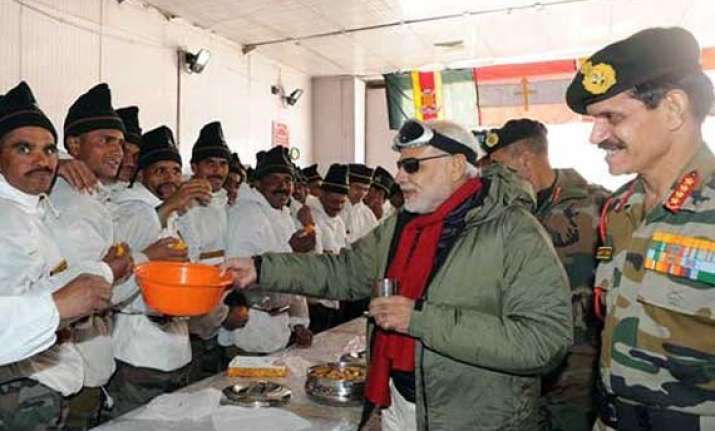 New Delhi: Prime Minister Narendra Modi today arrived at Siachen Glacier at 9 am to spend time with the Indian Army soldiers on the occasion of Diwali. He will also be visiting flood-hit victims of Srinagar.
Before departing for Siachen, PM Modi tweeted, "Friends, I am leaving for Siachen Glacier. Its my good fortune that I will be able to spend time with our brave soldiers on this special day. Everyone is aware of the extreme conditions at Siachen. Overcoming every challenge our soldiers stand firm, protecting our Motherland.
Be it the altitude or bitter cold, nothing deters our soldiers. They stand there, serving our Nation. They make us truly proud.
Am going to Siachen with a message from each and every Indian to our soldiers- that we stand shoulder to shoulder with you!"
Modi added that he will visit Srinagar thereafter.
Prime Minister Narendra Modi's visit to flood-hit Srinagar for Diwali today will be packed with meetings, officials say.
After landing in Srinagar in the afternoon, the prime minister is expected to go to the Raj Bhawan where he will meet families affected by the flood last month, the worst that Jammu and Kashmir has seen in 100 years.
PM Modi will reportedly review rehabilitation measures and visit a relief camp. He is expected to announce a central package for flood victims before flying back to Delhi in the evening.
This will be his fourth visit to Jammu and Kashmir since taking charge as prime minister in May.
On Tuesday, PM Modi had tweeted, "Will be in Srinagar on Diwali, 23d October & will spend the day with our sisters & brothers affected by the unfortunate floods."
 
Close to 300 died and more than 1.5 million people were affected by the floods in Jammu and Kashmir. Modi visited Srinagar once before to survey the large-scale damage.
Chief Minister Omar Abdullah tweeted, "Let's just appreciate that @narendramodi is in Srinagar on his festival & not at home celebrating as he normally would have been doing (sic)."