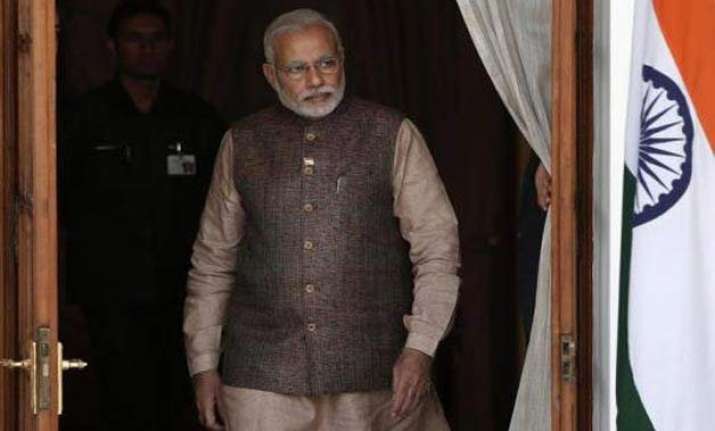 New Delhi: Prime Minister Narendra Modi was looking forward to his visit to China to interact with the top leadership, hoping it will have "concrete outcomes" and take the bilateral relationship to a new level.  This was told by Modi to Chinese State Councillor Yang Jiechi, who called on the Prime Minister and conveyed the greetings of President Xi Jinping and Premier Li Keqiang.  
Outlining his vision for closer India-China relations and its significance to the region and the world, Modi hoped that his visit to China will have "concrete outcomes and take the relationship to a new level," a PMO release said.  
During the meeting, the Prime Minister also recalled Xi's visit to India in September last as Yang briefed Modi on the preparations for his upcoming visit to China.  Yang and National Security Advisor Ajit Doval, who jointly co-chaired the 18th Round of talks on the boundary issue, also briefed the Prime Minister about the deliberations.
After the meeting, Chinese new agency Xinhua reported that Modi said he would like to have in-depth exchanges of views with Chinese leaders on furthering of bilateral ties when he visits China.
"This would also send a positive message to the international community on the efforts being made by the two countries in developing friendship cooperation," he was quoted as saying by Xinhua.
Modi said the bilateral relations are moving on a fast track and in the correct direction set by the leaders of the two countries, pointing out that this would not only benefit the two countries and their peoples, but also exert a positive influence on Asia and the whole world, Xinhua said.
On his part, Yang said that as two biggest developing countries in the world, by carrying out cooperation and building a tighter development partnership, China and India will help enhance their own development and contribute to promoting peace, stability and development of the region as well as the world.
Yang was also quoted as saying that "China is willing to work with India to continuously deepen mutual trust, actively expand cooperation fields and lead China-India strategic cooperative partnership to move to higher stages."
Modi is likely to visit China in May.