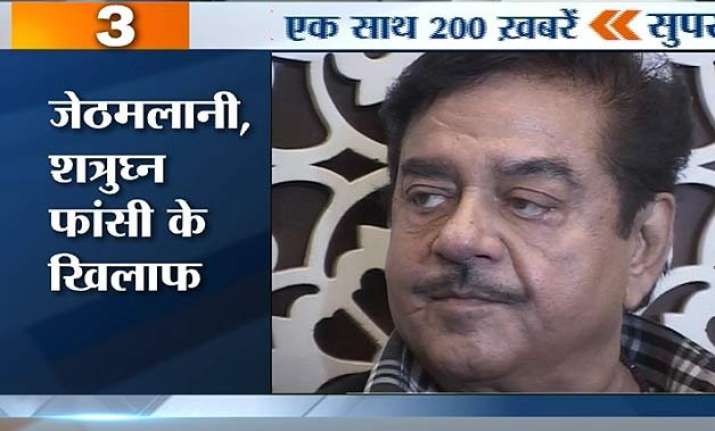 New Delhi: Leaders of various parties including BJP MP Shatrughan Sinha and its expelled MP Ram Jethmalani, eminent jurists and persons from different walks of life today submitted a fresh petition to President Pranab Mukherjee requesting him to waive the death sentence of Mumbai blasts convict Yakub Memon.
In the new petition urging stay against imminent execution of Yakub Abdul Razak Memon, the signatories claimed that there are "substantive and fresh grounds" that can be considered on merits.
Memon is scheduled to be executed on July 30 as per the execution warrant issued by TADA Court.  The petition has come at a time when there is a huge political controversy over Memon's hanging and the BJP has condemned the remarks by parties against the hanging of Memon saying such a defence is happening due to "petty politics".  
BJP MP Sinha, who had a day before met and praised Bihar Chief Minister Nitish Kumar, has once again gone against the party's stand on the Memon issue.
In the 15-page petition, the signatories have cited varioius legal points and international committments to argue that Memon should not be hanged.
"We most humbly request your Excellency to consider the case of Yakub Abdul Razak Memon and spare him from the noose of death for a crime that was master-minded by someone else to communally divide the country.
"Grant of mercy in this case will send out a message that while this country will not tolerate acts of terrorism, as a nation we are committed to equal application of the power of mercy and values of forgiveness, and justice.
Blood letting and human sacrifice will not make this country a safer place; it will, however, degrade us all," the signatories said.  Besides Sinha and Jethmalani, those, who have signed the petition include MPs like Mani Shankar Aiyar (Congress), Majeed Memon (NCP), Sitaram Yechury (CPI-M), D Raja (CPI), K T S Tulsi and H K Dua (nominated) and T Siva (DMK), former CPI(M) general secretary Prakash Karat, CPI(ML)-Liberation general secretary Dipankar Bhattacharya,  Brinda Karat (CPI-M) and filmmakers and actors like Naseeruddin Shah and Mahesh Bhatt, M K Raina and Tushar Gandhi.
It also included various academicians, members of the legal fraternity, activists and retired judges - Justice Panachand Jain, Justice H S Bedi, Justice P B Sawant, Justice H Suresh, Justice K P Siva Subramaniam, Justice S N Bhargava, Justice (retd) K Chandru, and Justice Nagmohan Das, noted lawyer Indira Jaising.
Others include academicians like Irfan Habib, Arjun Dev, D N Jha, and social activists Aruna Roy, Jean Dreze and John Dayal.