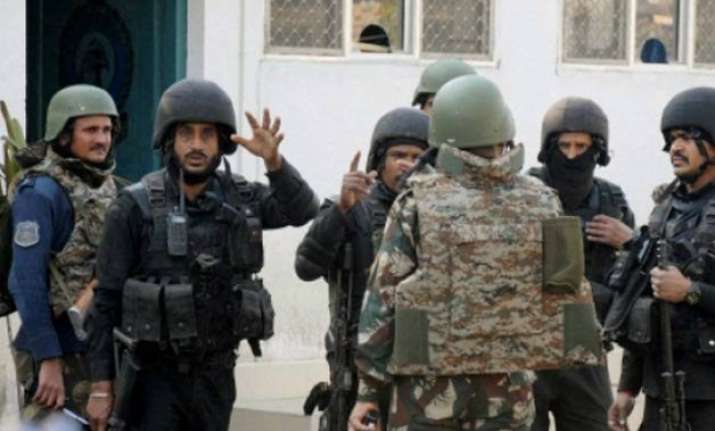 New Delhi: Countering the growing criticism over deployment of NSG over Army in a predominant manner at Pathankot IAF airbase, the Indian Army on Wednesday said 'it was a joint decision and that the army was fully involved in it'.
"There was NSG, Air force, Garud commandos. Application of NSG was a joint decision taken at an appropriate level which included service chiefs," said Lt Gen Kamal Jit Singh, GoC-in-C, army's Western Command, said.
He also said that NSG was brought in for this operation because they wanted to avoid a hostage situation as a large number of families and foreign trainees were residing inside the base.
"NSG was brought in because firstly strategic assets were over here. Secondly there can be hostage situation. People were living inside the campus which could have taken hostage...NSG are special troops (to handle such situation)," he said.
There has been criticism of the decision to deploy the NSG personnel flown from Delhi on Saturday morning in the air force base in Pathankot when a larger number of army commandos were available in nearby garrison in the border city itself Army's special forces commandos were said to be better equipped to deal with the siege of the base.
Calling the operation -- which saw synergy between the NSG, Army and Air Force -- a 'complete success', Lt Gen said, "There was no collateral damage during the operation. We all must take into account that there are a large number of civilian pockets in that area. No collateral damage was caused to civilians pocket and villages which is in its vicinity (of air force base station)."
To a question about the source of the alerts, Lt Gen Singh said, "We got alert from Punjab police also and from central agencies." However, he said the alert issued by Punjab police on December 30, was very general which said that 15 militants had entered into the Indian territory.
On reports about Punjab police's lapse in Pathankot terror attack, he said, "I will not comment on it. It is a subject matter of inquiry." "We had initially report of 4-6 militants and then we made contact with six of them and all of them were eliminated."
Asked whether there could be any local support to terrorists, Lt Gen said, "Some localised support cannot be absolutely ruled out. It will all be looked into. NIA will look into it. All aspects of this case will be looked into it."
The combat operation ended on Tuesday with Defence Minister Manohar Parrikar announcing that six terrorists were killed. Seven security personnel, including an officer of the National Security Guards (NSG), were also killed in the attack.
Meanwhile, the combing operations continued on the sixth day to sanitise the Pathankot Air Force base with NIA forming various teams to probe the terrorist attack on the high-security defence facility. Sources in the Indian Air Force (IAF) said that every inch of the Air Force Station (AFS) was being thoroughly scanned.