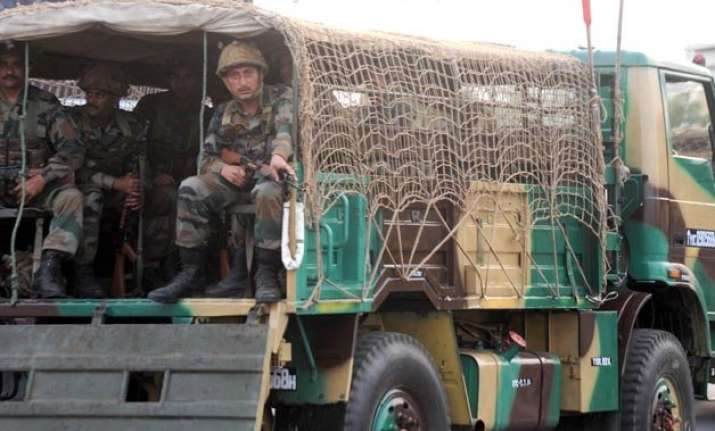 Ahmedabad: Army was called in yesterday here to help control widespread violence sparked by quota agitation by Patel community in Gujarat which has claimed eight lives even as curfew was clamped in several areas.
The administration has announced that schools and colleges will remain closed in Ahmedabad today.
Apart from Ahmedabad, two companies of Army were deployed in Surat and another two in Mehasana. About 5,000 paramilitary personnel have also been to brought to Gujarat.
Flag marches were held in the city on Wednesday evening by the Army amid reports of sporadic violence in some parts of the state.
The violence which started on Tuesday after a massive rally of the Patel community has claimed eight lives in the state, police said.
Notwithstanding Prime Minister Narendra Modi's appeal for peace, protesters resorted to arson, stone-pelting and attacks on public and private properties. The bandh call given by Patel leaders brought the city to a grinding halt.
Curfew has been clamped in Ahmedabad, Surat, Rajkot, Mehasana, Patan, Palanpur, Unjha, Visnagar and Jamnagar towns.
Six people were killed in firing by police and paramilitary forces, while two others died following clashes which started last night, police said. Four deaths were reported in Ahmedabad, three in Gadh village of Banaskantha district and one in Mehasana town.
Meanwhile, Hardik Patel, the 22-year-old leader of the Patel Anamat Andolan Samiti who is spearheading the agitation, blamed police for the violence and said the agitation will intensify in the coming days.
Denying that the protesters started the violence, he accused the police of trying to "disrupt" the movement at the behest of political establishment.
On Wednesday, schools, colleges, shops, banks remained closed in most places in view of the bandh call given by Hardik. Public transport and rail traffic was also affected. Police said agitators uprooted railway tracks in at least eight places in the state.
At least 12 trains, including Ahmedabad-Delhi Rajdhani Express, were cancelled and 19 trains were diverted inside Gujarat, Western Railway PRO Pradip Sharma said. Another five trains were diverted out of the state.
Tracks were damaged in several places. At Sarbarmati railway station, a mob tried to set fire to a freight train but the Railway police foiled the attempt. Tracks were badly damaged by miscreants at GST crossing here and near Vartej cross-road in Bhavnagar.
The Patel community, represented by the Patidar Aarakshan Andolan Samiti, has been demanding reservation in the OBC category.