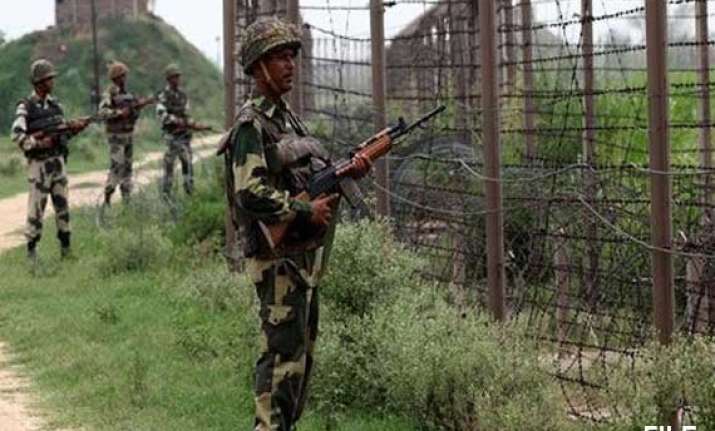 Jammu: Pakistani troops targeted Indian Forward Posts along the Line of Control (LoC) in Poonch district of Jammu and Kashmir on the third successive day today, drawing retaliation from Indian troops.
"There was a ceasefire violation by Pakistani troops in Poonch sector. Pakistani troops resorted to small arms and mortar shelling along LoC in Sabjian around 1400 hours today," a senior Army officer said.
Indian troops effectively retaliated resulting in exchanges of gun fire which continued till 1530 hours today, he said.
No one was injured when the last reports came. This is the fourth ceasefire violation in past three days. There were three ceasefire violations in Sabjian and Mandi sub-sectors in Poonch and one in Forward Area in Kashmir Valley on October 1.
Pakistani troops resorted to heavy firing by small arms and automatic weapons and shelling of 81 mm mortar bombs in two forward sub-sectors of Sabjian and Mandi along LoC in Poonch district on the intervening night of October 1 and 2. They also targeted civilians living in border hamlets of Gigriyal and Uripura along LoC, police officials said.  Six persons including 2 women were injured in the attack.
This month's ceasefire violations came after a gap of one month and four days along Indo-Pak border in Jammu and Kashmir.
Pakistan Rangers had resorted to unprovoked firing by automatic machine guns on the intervening night of August 26 and 27 on Indian BOPs located in Pragwal area of Akhnoor tehsil of Jammu.
In a bid to defuse border tension triggered by 45 days of firing and shelling by Pakistani troops, the longest since 1971 war, India and Pakistan on August 29 held a crucial Sector Commander (DIG-Brigadier) level flag meeting on Octerio BoP in R S Pura sector to decide to maintain peace and tranquillity by silencing guns.
On August 28, BSF troops held a commandant level flag-meeting with Rangers along International Border (IB) at Ballard Post in Samba sector of Jammu and Kashmir impressing upon each other to respect ceasefire.
On August 27, India and Pakistan held a commandant level flag meeting at Nikowal Border outpost (BoP) along the International Border (IB) in Pargwal sub-sector of Akhnoor sector in Jammu district.
According to BSF, firing by Pakistani forces along International Border (IB) during the 45 days was possibly the "heaviest" since the 1971 war.
There were 95 ceasefire violations by Pakistan along the Line of Control and it had also breached the ceasefire pact 25 times on the International Border in recent months.
India had strongly lodged protest with Pakistani Rangers at DGMO level hotline contact on August 26.  Pakistan violated ceasefire pact at least 34 times in the 45 days since July 17.