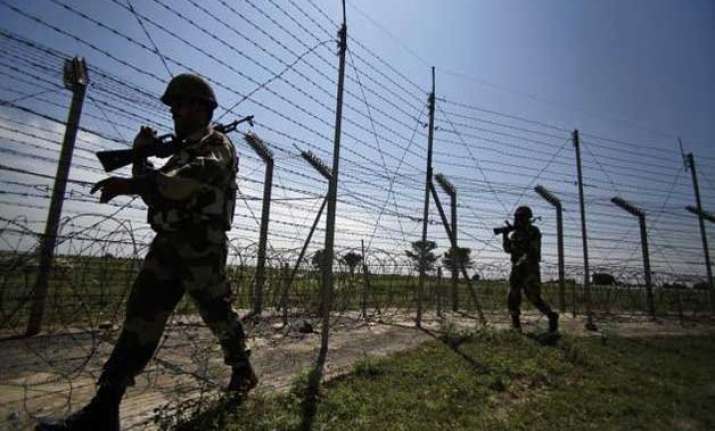 Jammu: Pakistani troops tonight heavily shelled border hamlets and 8 Border outposts (BoPs) including Arnia town along International Border (IB) in Jammu district resulting in injuries to three persons.
Pakistani Rangers resorted to heavy small arms firing and mortar shelling in civilian areas and BoPs along IB in Arnia and R S Pura sub-sectors in Jammu district from tonight, a police officer told PTI.
They fired mortar shells, which hit Arnia border town, where three people were injured, he said, adding that injured have been shifted to Government Medical college (GMC) in Jammu for treatment.
The injured people have been identified as 44-year old Bhole Devi, 41-year old Darshan Lal and 20-year old Vicky Kumar, all residents of Arnia town.
Panic stricken villagers switched off their lights and took to bunkers and ground floors of their houses to save themselves from the shelling.
Authorities asked the people to stay indoors. BSF personnel guarding the borderline took positions and fired back resulting in exchange of fire which is still going on intermittently, he said.
Earlier, around 8.45 PM, Pakistani Rangers violated ceasefire and resorted to small arms firing on border outposts (BoPs) along the IB in R S Pura and Arnia sub-sectors.  There has been half-a-dozen ceasefire violations by the Pakistani forces in the past over one week.
On January 27, Pakistani Rangers resorted to small arms firing on two to three BoPs in Arnia sub-sector of Jammu district, forcing BSF to retaliate.
On January 25, ahead of US President Barack Obama's visit to India, they resorted to small arms firing along the IB on Jugnu Chak BoP in Jammu.
On January 22, there was exchange of fire after BSF personnel on suspicion of (movement of) suspected persons, fired a few rounds resulting in retaliation from Pakistani side in Regaal BoP area in Samba district.
On January 21, BSF foiled an infiltration bid in Arnia. On January 20, Pakistani Rangers violated the ceasefire by resorting to firing by small arms on BoPs in Jammu district.On January 12 and 13, there was small arms firing by Pakistani rangers in Samba sector.
Pakistani forces resorted to firing of mortar shells and small arms along the IB in Hiranagar belt of Kathua district on January 11.
On January 6, there was ceasefire violation by Pakistani rangers in Kathua district. As many as 4 people have died in the shelling and firing in first week of January this year and over 10,000 people have displaced.