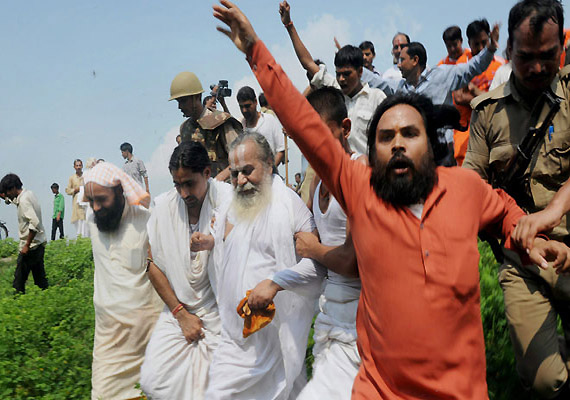 Lucknow: The Uttar Pradesh police today arrested around 340 people, including former BJP MLA Lalu Singh, and put 42 others under house arrest on the eve of the VHP's 'Sankalp Diwas' rally in Ayodhya, which has been banned by the state government.
Talking to reporters here, IG (law and order) R K Vishwakarma said 340 people have been arrested, 42 have been placed under house arrest and 39 people have been charged with CrPC Section 107/16.
Those arrested included VHP spokesman and former BJP MLA Lalu Singh, he said, adding there was no information regarding the arrest or house arrest of senior VHP leader Ashok Singhal.  
To prevent VHP activists from attending the rally, three-tier barriers have been put up on Saryu bridge, Faizabad district and Ayodhya, he said, adding as many as 2,000 jawans of RAF, police and PAC have been deployed in the area.  
As a precautionary measure, the local administration has set up a temporary jail at the Police Line, the IG added.  
VHP has given a call to observe 'Sankalp Diwas' in Ram Sewak Puram in Ayodhya to take a resolve for launching an agitation for rebuilding the Ram temple in Ayodhya.