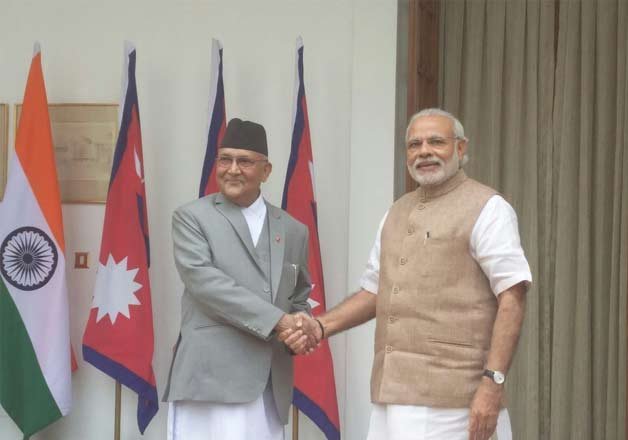 New Delhi: Prime Minister Narendra Modi met his Nepalese counterpart K.P. Sharma Oli on Saturday, the second day of the latter's six-day visit to India, during which a range of issues of mutual interest, including trade and political situation in Nepal, figured.
The two leaders met at Hyderabad House here ahead of delegation-level talks and stressed on the importance of good relations between the people of the two countries.
Addressing the media, the Nepalese PM said, "The main reason for my visit is to clear the misunderstandings that have settled in last few months." He also thanked PM Modi  and the people of India for their spontaneous support in the aftermath of the earthquake that hit Nepal on Aril 25 last year.
While praising Nepal's noteworthy progress in the last few years as far as democracy and federalism is concerned, the Indian Prime Minister called for a consensus on Nepal's constitution. Success of Nepal's constitution will depend on consensus and dialogue, PM Modi said.
Nepalese PM K P Oli also briefed PM Modi on developments in Nepal after adoption of constitution. "India's security is related to Nepal's stability," the PM said.
Earleir India signed nine agreements with Nepal following delegation-level talks led by Prime Minister Narendra Modi and his Nepalese counterpart K.P. Sharma Oli.
These include agreements on utilisation of Indian grant of $250 million for post-earthquake reconstruction, improving of road infrasxtructure in Nepal's Terai area, cultural cooperation, transit between Nepal and Bagladesh through Kakarbitta-Banglabandh corridor, operationalisation of Vishakapatnam port and rail transport to and from Vishakapatnam.
The visit of Oli, who arrived here on Friday, is the first bilateral visit by a prime minister from the Himalayan nation since 2011 when Baburam Bhattarai visited India.
"India and Nepal exchange nine agreements for partnership and progress," Fireign Secretary S Jaishanker later said at a press briefing, adding that both leaders discussed a range of topics during their meeting. China, he said, did not come up during discussions. 
Both sides have reaffirmed their stand not to allow anti-social elements to exploit the open border against the two countries, the Foreign Secretary said.  
In 2014, then prime minister Sushil Koirala visited India for the swearing-in ceremony of the Narendra Modi-led National Democratic Alliance (NDA) government.
In August 2014, Prime Minister Narendra Modi went on a bilateral visit to Nepal which was the first by an Indian prime minister in 17 years.
Modi again went in November 2014 to attend the South Asian Association for Regional Cooperation (Saarc) summit in Kathmandu.
Earlier on Saturday, Oli was accorded a ceremonial welcome at the Rashtrapati Bhavan, where he inspected a guard of honour.
External Affairs Minister Sushma Swaraj thereafter called on the visiting dignitary.
During the meeting, Oli told Sushma Swaraj that India and Nepal have a natural and civilisational relationship, according to Swarup.
Oli's visit assumes significance as ties between the two South Asian neighbours in the last few months soured after the adoption of a new constitution in the Himalayan nation sparked violent protests in the country's southern plains.
"While some problems related to the Nepal Constitution have been solved, some issues remain to be addressed. A commiitee including the deputy PM and finance minister of Nepal Kamal Thapa has been formed to look into this. We are waiting for its Terms of Reference," the Foreign Secretary said.