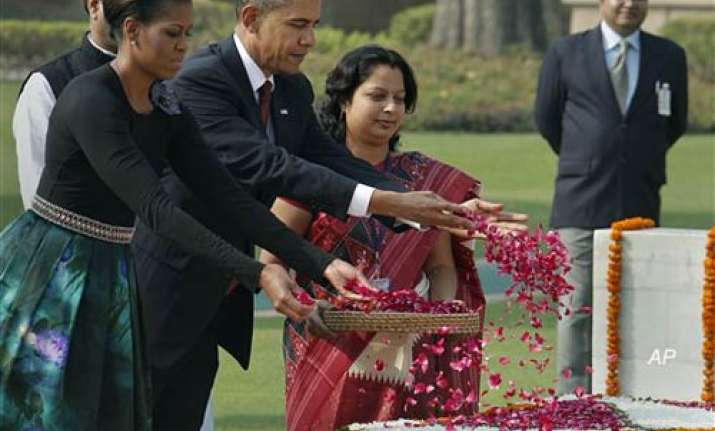 New Delhi, Nov 8 : It was a rare gift from US President Barack Obama to the memorial of Mahatma Gandhi -- a stone used to built a memorial of civil rights icon Martin Luther King who was inspired by the Father of the Nation.
Obama handed over the memorabilia to Rajnish Kumar, Secretary of Rajghat Samadhi Committee, when he along with First Lady Michelle visited Gandhi's memorial on the banks of the Yamuna today.
The US first couple bowed their heads, stood in silence for a minute, placed a wreath and showered flower petals. "Simple and very beautiful," Obama, who always acknowledged the Mahatma's influence on him, said as Michelle nodded, "very beautiful."
"We will always remember the great soul who changed the world with his message of peace, tolerance, of love. More than 60 years of his passing (away), his light continues to inspire the world," Obama wrote in the visitor's book.PTI