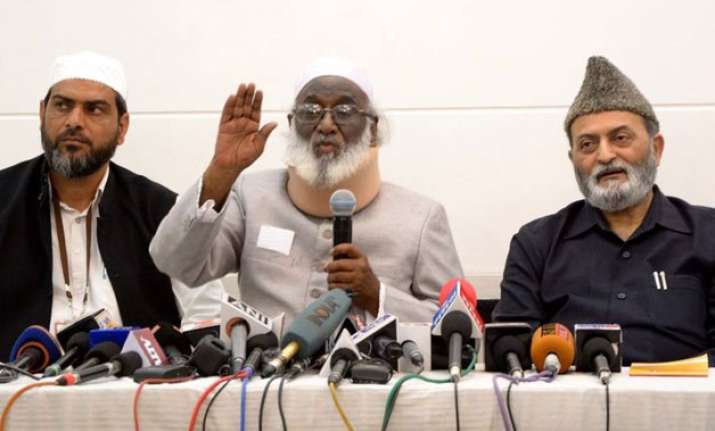 Lucknow/Jaipur: The All India Muslim Personal Law Board (AILMPB) on Sunday said that both Muslims and Christians are insecure during BJP's rule. The AILMPB passed a resolution to launch a campaign to counter 'ghar wapsi' and 'love jihad' drives of the right wing Hindu outfits.
The Board assistant general secretary Abdul Rahim Qureshi said at a press conference at the end of a two-day convention in Jaipur, "We're concerned about the situation in the country which has worsened after Narendra Modi became PM. Not only Muslims, but Christians are also feeling uncomfortable."
As published in a report by Times of India, the board also said that the right-wing forces like RSS and its affiliates have become "active against the minorities after the formation of new government at the Centre".
Qureshi said that BJP's reign has encouraged the Hindutva forces and they "have become more active after the formation of NDA". 
He told that the resolution was passed by the Board members in the national convention which seeks support of people against the conspiracy of Hindu organizations like the RSS to take the country in direction of fascist state from a secular democracy.
He further said that the RSS and VHP had spit venom not only against Muslims but Christians also.
He said that it is a conspiracy to divide sections of society for which the Board has sought support of all the Muslims as well as Hindus against their (Hindu outfits') propaganda.
He further hit out at the right wing forces saying their agenda against the minorities will result in "anarchy" in the country.
The board slammed the reports of a meeting between its president, Maulana Rabe Hasan Nadwi, and PM Narendra Modi, as claimed by Zafar Sareshwala, a Modi supporter, before the media.
Sareshwala, who also went to attend the AIMPLB meeting, was told to leave as he was not the member of the board. Along with him, some other non-members of the board were also asked to leave.
Maulana Nadvi said, "We've to ensure that organizations trying to divide us are kept at bay and the board should be prepared to counter any effort to disturb the peace of the country."
AIMPLB general secretary Maulana Nizamuddin said a resolution has been passed to activate constitutional rights protection committee under the AIMPLB led by its secretary Maulana Mohammed Wali Rehman of Munger (Bihar) to counter 'ghar wapsi'.