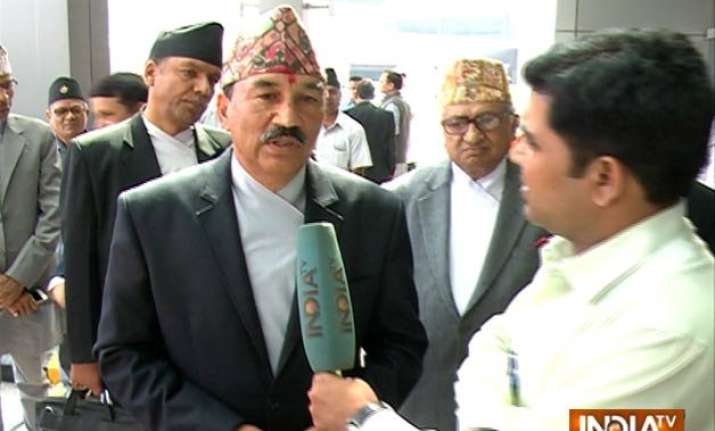 New Delhi: A day after meeting with External Affiars Minister Sushma Swaraj and other officials, Nepal's newly appointed deputy Prime Minister Kamal Thapa today met Prime Minister Narendra Modi in a bid to resolve the ongoing crisis at theIndo-Nepal border and resume supply of essential commodities to the Himalayan nation.
After his meeting with PM Modi, Thapa told  India TV that he is  optimistic about Indo-Nepal relations becoming normal soon.
"We had extensive discussions with Prime Minister, Foreign Minister, Home Minister and other officers. I am quite optimistic now and I think my visit has been able to clear the air of mistrust and misunderstanding," said Thapa.
Talking about anti-India sentiments in Nepal after the disruption in fuel supplies, Thapa said that the unfortunate events have created some sort of reactions after a surge in goodwill that was built after PM Modi's visit.
"When Prime Minister Modi visited Nepal and addressed the parliament, there was a tremendous surge of goodwill among the Nepalese people towards India.  
But definitely as Nepalese people are suffering from the fuel crisis, I think there are some reactions but that is not anti-Indian and it is just temporary sort of phenomena. Once the supply line resumes, everything will be normal," said Mr. Thapa.
The blockade at crucial India Nepal checkpoints have disrupted critical supplies to the landlocked country which saw a massive destruction in April after an earthquake. The blockades have been forced by Madhesi community which has expressed its displeasure over the newly implemented constitution.
The protesters, from the ethnic Madhesi minority in Nepal's southern plains, are incensed about the planned division of the country into several federal provinces under the constitution introduced last month.
A section of the Nepalese population as well as the government has accused India of imposing a blockade. India has expressed concern over the dissent in a section of Nepalese society after the new constitution was adopted in that country.    
Talking about the disruptions in the supplies to Nepal, Thapa said that the crisis will soon come to an end. "I am also hopeful that the crisis Nepal is facing at the moment because of disruptions in the supply line now will be resolved and I also believe that after this visit, Nepal- India relations is now back on track," said Thapa.
Mr. Thapa also expressed hope that his visit will further strengthen ties between the two nations. He said, "We have been able to normalise and at the same time this visit has also successful in preparing the ground for further strengthening of our bilateral relations."