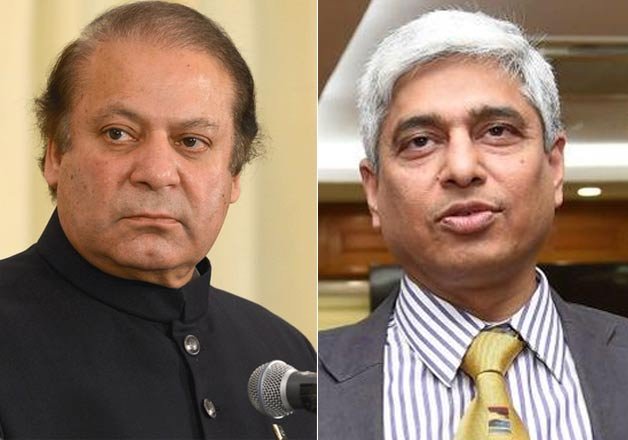 New Delhi: India has termed as 'unacceptable' the Pakistan Foreign Office spokesperson's comments on hanging of Parliament convict Afzal Guru and Jammu and Kashmir.
"Jammu and Kashmir is an internal matter of India. Pakistan's gratuitous references to Jammu and Kashmir are unacceptable," External Affairs Ministry Spokesperson Vikas Swarup said on Thursday.
Pakistan Foreign Office spokesperson Mohammed Nafees Zakaria on Thursday said the Kashmiri people have never accepted the 'unfair' trial of Afzal Guru, a Kashmiri who was hanged on being convicted for the Indian Parliament attack in December 2001.
He pointed out that Pakistan has adequately and appropriately raised the Kashmir dispute at all the international fora.
Sharif remarks on Kargil confirmation of truth: India
Swarup also described 'confirmation of truth' Pakistan Prime Minister Nawaz Sharif's comment that the Kargil 'misadventure' in 1999 by troops of his country was a stab in the back for the then prime minister Atal Bihari Vajpayee.
"Nawaz Sharif has said something which was known to all. Everybody knew about it. He has only confirmed a truth which we all aware of," he said.
Addressing a public rally in Muzaffarabad, Sharif had said that Kargil offensive by Pakistani troops was a misadventure and a stab in the back for Vajpayee as the two countries were engaged in peace process.
Pakistani troops had occupied a number of positions in Kargil heights, months after Sharif and Vajpayee had initiated a peace processes by signing the historic Lahore declaration.
"Vajpayee told me he had been stabbed in the back with the Kargil misadventure because it came soon after the Lahore Declaration. I told him I would have said the same thing if I were in his place," Sharif said.
On proposed Foreign Secretary-level talks between the two sides, Swarup said both foreign secretaries are in touch with each other but no dates have been finalised yet.
Asked about Pakistan's offer of sending a special investigation team to India to probe the Pathankot attack, Swarup said, "We have said that we welcomed the decision of Pakistan government to form an SIT. As and when a firm proposal is received, then the modalities will be worked out."
Swarup added that the issue of Pakistan's response to evidence given by India on involvement of Pakistani terrorists in the attack, was being handled by NSAs of the two countries.
Asked about Defence Minister Manohar Parrikar's reported remarks that he was opposed to any joint probe into the attack, the MEA spokesperson said there was no such proposal.
"There was never a joint investigation team. Pakistan had proposed sending a special investigation team to India and that time we had welcomed it. Since then we are awaiting a detailed proposal from Pakistan. Once we receive it, we will discuss," he said.
With Agency Inputs