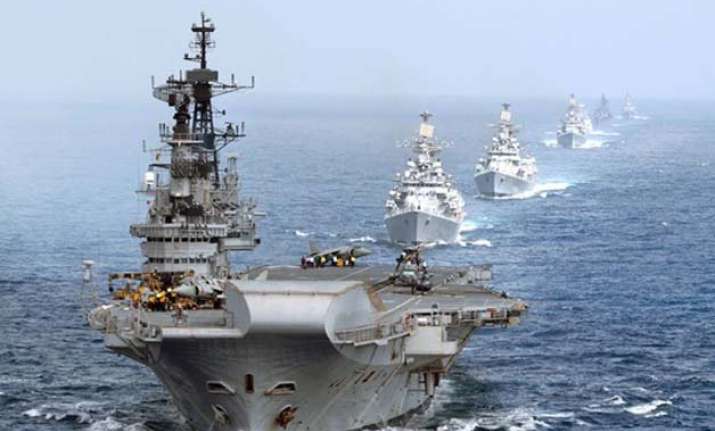 New Delhi: Aiming for total indigenisation, the Indian Navy on Monday released a plan that includes list of equipment to be made in the country in the next 15 years.
It takes into account the Maritime Perspective Plan, which defines the goal for equipment and vessels with the Navy; the Maritime Infrastructure Perspective Plan, that focuses on building infrastructure along with the plans for cooperation with other countries; the Maritime Cooperation Roadmap Perspective Plan; and a Science and Technology roadmap that the navy has prepared with the Defence Research and Development Organisation.
"The government will not buy anything off the shelf from other countries," a navy official said while talking about the plan which comes as the government focuses on indegenisation.
"The indigenisation requirements of the navy have been covered under categories of 'float', 'move', and 'fight', under sub-categories of marine engineering, electrical and electronic, weapons, armament and sensors, submarine systems, aircraft handling systems, diving and special operations and aviation equipment," a statement on the plan said.
Of the three components of shipbuilding, the navy is 90 percent indigenised in the float category, 60 percent in the move category and only 30 percent in the fight category, that includes weapons and sensors.
The plan now aims at making 'arrestor wires', which assist in stopping aircraft while landing on ships, aircraft lifts, longlife paints for underwater hull, flight deck and radar absorption, composite foldable aircraft hangar door, bow sonar dome and glass for windows on ships' bridge among other things.
The plans for the move category include gas turbines, main propulsion diesel engines, and air independent propulsion, while the fight category plans include a long list of equipment ranging from surface-to-air missiles to fire control systems and super rapid gun mounts.
The list for naval aviation includes naval utility helicopters, naval multi-role helicopters and a number of other equipment.