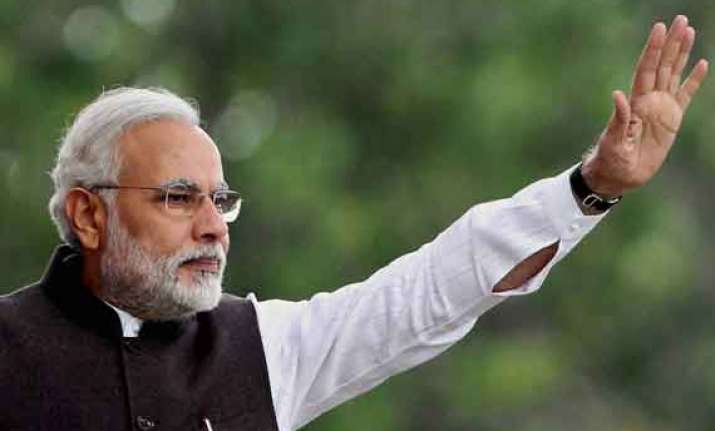 New Delhi: Narendra Modi is looking to make a splash when he arrives in the United States in September.
He's expected to attend the U.N. General Assembly in New York and travel to Washington to meet with President Obama.
Now Modi has instructed supporters in the United States to find him a venue big enough for a grand address to the Indian diaspora planned for Sept. 28.
He will address a gathering of around 20,000 people in New York, which will be broadcast live to crowds in 20 other cities in the United States on September 28, turning his first visit as Prime Minister there into a show of his popularity.
Former Prime Ministers Vajpayee and Manmohan Singh have addressed people of Indian origin and NRIs mostly in hotel ballrooms, with a few hundred in attendance.
But Modi's show will be unprecedented in its scale and political message, said sources involved in the preparations.
Union Power Minister Piyush Goyal is coordinating efforts from New Delhi with Bharat Barai and Chandrakant Patel, prominent Gujarati NRIs, at the U.S. end.
The organisers had to shelve the original plan to gather 1,00,000 people in New York after they failed to find a big enough venue.
Madison Square Garden, an indoor stadium in midtown Manhattan that has been booked for Modi's show, can accommodate only 20,000, said Patel, president of the Overseas Friends of the BJP in the U.S.
In the run-up to parliamentary elections in May, Modi routinely drew hundreds of thousands to his rallies throughout India.
Thousands even showed up to see him speak as a holographic image.
Although he traveled to the United States as a younger man, Modi was denied a visitor's visa by the U.S. government in 2005 for failing to do enough to stop religious riots that broke out in 2002 in Gujarat.
But after Modi's Bharatiya Janata Party swept to power, however, U.S. officials put the visa issue to rest by extending an invitation to him to visit Washington.