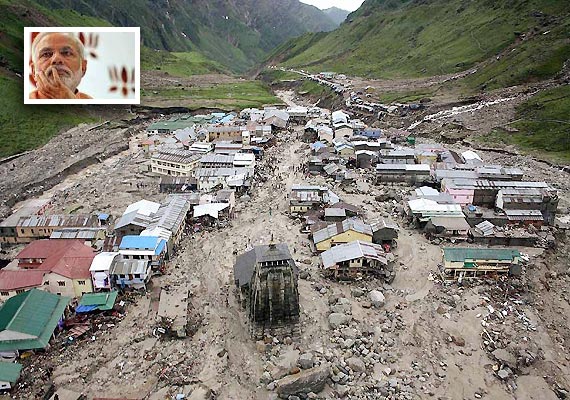 Dehradun, Jun 23: Gujarat chief minister Narendra Modi today met Uttarakhand chief minister Vijay Bahuguna here and offered to take responsibility of renovating the Kedarnath temple complex completely.
Speaking to mediapersons after meeting Bahuguna, Modi said Gujarat government was ready to take responsibility for renovating the Kedarnath temple complex. "The chief minister has said that he will decide and inform later".
Modi also offered to provide volunteers from Gujarat to carry out rescue and relief work. "Our teams have experience after the Gujarat earthquake, and can be helpful in reconstruction and rehabilitation"
"The people of Gujarat are with the people of Uttarakhand in their hour of crisis", Modi said, adding that he suggested to Bahuguna to ask the Army for bigger helicopter to evacuate people in large numbers, and deploy small helicopters for places where there are few people stranded.
"Airlifting is the only way, after what I say during the aerial survey. In many places, I saw people still stranded. I also suggested that the details of missing people should also be announced", said Modi. "There is quite a chance of epidemic spreading", he added.
Meanwhile, a chartered flight from Dehradun today flew 134 passengers, stranded due to the devastating floods in Uttarakhand, to Ahmedabad.
This was the first chartered aircraft to operate from Dehradun carrying stranded tourists and pilgrims, aviation sources said here.
A Boeing 737-700, belonging to Jet Airways and operated by aircharter firm Subha Aviation, was chartered by the Gujarat government at the instance of Chief Minister Narendra Modi, they said.
The aircraft took off from Jolly Grant airport at 0830 hours and reached Ahmedabad almost two hours later, the sources said.
Some other states like Bihar and Rajasthan, from where people are still stranded in the affected region, were also contemplating chartering airplanes to evacuate them expeditiously.