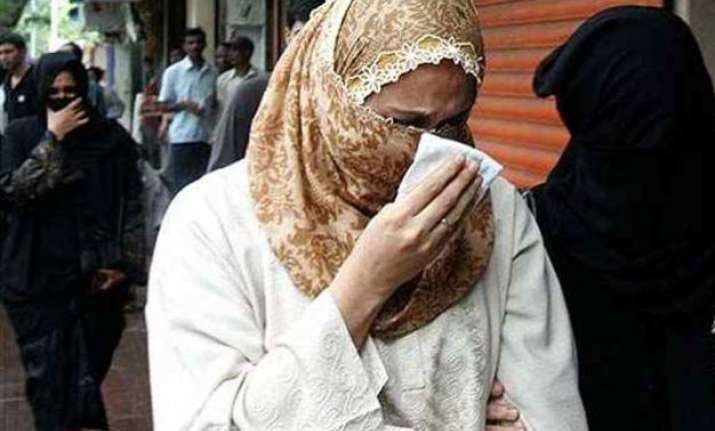 New Delhi: Rahin Memon, wife of 1993 Mumbai blast convict Yakub Memon, said that her husband is paying for the sins of his brothers.
"Tiger and Ayub (the absconding brothers of Yakub and masterminds of the blast) did not come back because they know they will be punished," she told media yesterday after the Supreme Court dismissed a curative plea filed by Yakub.
"Yakub is being hanged because of the Memon tag. Is surname ne unko tabah kar diya (this surname has destroyed him)," she added.  
 Yakub was among the 100 convicted -- of the 123 accused in the case -- besides many others listed as 'wanted absconders', including his brother Ibrahim alias Tiger Memon and mafia don Dawood Ibrahim Kaskar.
Yakub Memon and 11 others were slapped with the death penalty, 20 got life terms and another 68, including Bollywood actor Sanjay Dutt, varying terms in jail.
Also Read: After Supreme Court denies relief, Memon submits mercy petition to Governor
Rahin is particularly upset that this happened to a person who chose to come back and face trial.  
"I still can't come to terms with it. It never occurred to us that the court could send Yakub to the gallows. It feels like a bad dream... and today is his birthday,'' she said.
"Allah knows every single tear you've shed for those you love. He knows the number of times your heart sank out of sadness and grief and undoubtedly. He has sworn by our daughter that he has done nothing wrong. If he had, I would have left him long ago,'' she added.
Rahin too faced charges of aiding and abetting terror acts but was acquitted in September 2006 due to lack of evidence.
Asked if there was any deal with government, Rahin said, "We returned because we were living under house arrest in Karachi. We didn't like it there—we were missing our homeland and we did not want to live with a false sense of shame."
 Yakub, whose death sentence was confirmed by Supreme Court yesterday, is a chartered accountant.
 The court said it had evidence from co-accuseds' confessions that Yakub bought the tickets to send Muslim youth for arms training and gave bags full of arms to a co-accused.
"He attended to all financial matters and did the ticketing routinely; it was nothing new for him. He was not told anything. As for the bags (for the first time she falters), Yakub said they contained his work documents, not arms,'' she said.
Rahin admitted Yakub was aware of Tiger's financial irregularities.
"Yakub was no kid, but he neither mingled with Tiger's friends or contacts, nor did he do any work for them as a chartered accountant," she said.
 March 1993 terror attack was the biggest in Indian history, targeting 13 locations simultaneously and blowing them up within a couple of hours.