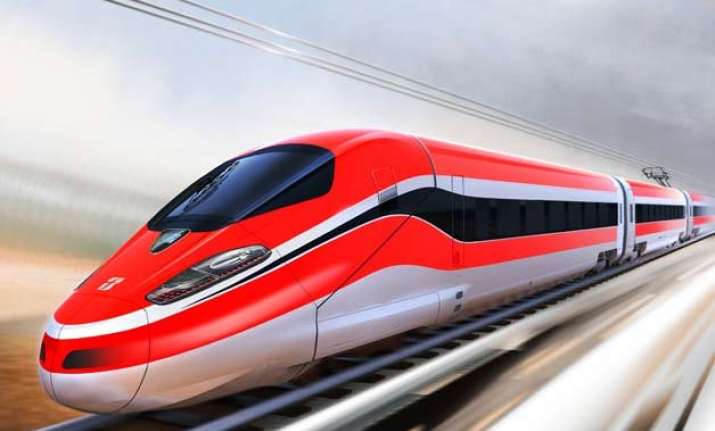 Mumbai: Indian Railway's ambitious Ahmedabad-Mumbai bullet train met with a critical roadblock last motnh when the Maharashtra government expressed its inability in allotting land requested in the Bandra-Kurla Complex for the project.
The state government instead recommended the government to use vacant railways plots in Dadar, Kurla and Bandra terminus.
However, Additional Chief Secretary, Transport and Ports, Gautam Chatterjee, has now informed that there is a proposal to run the bullet train on an elevated corridor to avoid problems including fencing etc.
The proposal of elevated tracks is currently under consideration of the government. Here, we bring to you 10 facts about India's first high speed rail line:
1. The proposed Mumbai-Ahmedabad bullet train may run on an elevated corridor to solve the problems of acquiring vast tracts of land, building underpasses for cattle and many more.
2. The project is likely to cost an estimated Rs 98,000 crore but the elevated corridor will increase the project cost by another Rs 10,000 crore.
3. The top speed on the 505 km (approx) elevated corridor will be between 300 to 350 kmph.
4. The first train is expected to run in 2024 if construction work begins by 2016-end or early 2017. Once operational, 40,000 passengers are estimated to avail of this service every day.
5. The high-speed train corridor is likely to have 11 stations on the route with seven stations in Maharashtra alone.
6. According to the initial proposal, the high-speed train will have halts at Thane (that will connect both Central and Navi Mumbai), Virar, Palghar, Vapi, Valsad and Ahmedabad.
7. The corridor will not pass through Nashik, as it would further increase the project cost. Plus, it would also not be technically viable to run the train via Nashik.
8. There are proposals for originating the line at either Bandra Terminus or Lokmanya Tilak Terminus, if the Bandra Kurla Complex option was unfeasible.
9. The Japanese International Co-operation Agency (JICA) has agreed to offer a soft loan for the project. If reports are to be believed, it will fund 81 per cent of the total project cost while rest of the resources would be managed by other partners.
10. The project will be jointly implemented by state governments of Maharashtra, Gujarat and the Ministry of Railways. A Special Purpose Vehicle (SPV) is being set up to implement the project.