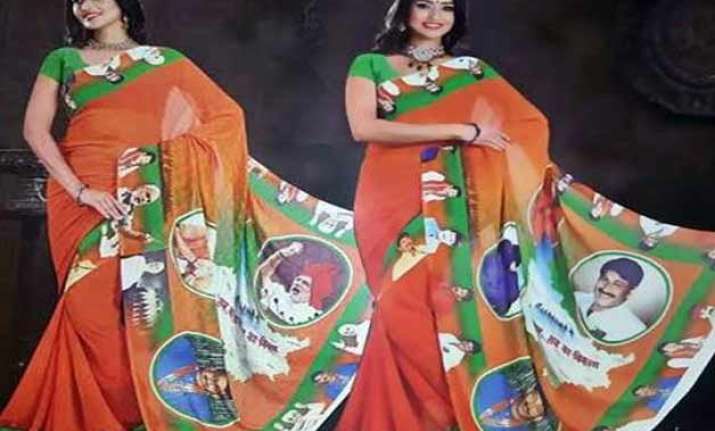 Patna: Bihar is gripped by election fever and political parties are coming up with innovative gimmicks to woo the public.
During the election campaign, you would have seen images of Prime Minister Narendra Modi on T-shirts and caps. But now he is appearing on saris too! Apart from Modi, Bhojpuri film star Manoj Tiwari is also depicted on these saris, which are being sold and distributed to the public.
Tiwari is a BJP Lok Sabha MP from North East Delhi.
Modi's rivals, Laloo Prasad Yadav and Nitish Kumar, can also be seen on shirts and caps at election rallies.
But the Prime Minister has stolen a march on them with this new tactic.
The saris are made by a company in Surat in Modi's home state of Gujarat.
The JD(U) has alleged that the BJP has spent around Rs 200 crore on these saris and that the party is distributing 20 lakh saris in Bihar to lure the voters.
The BJP has not rejected the charge of distributing saris and insists that there is nothing wrong in it.
However, if you wondered where the money is coming from, the Gujarati traders who produced these saris have an answer.
They claim that they want Modi to extend his victorious march to Bihar and that this is their own initiative, not the BJP's.