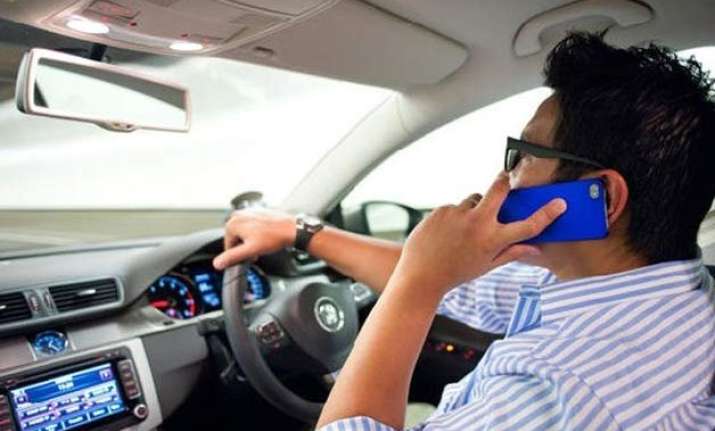 The government launched the Road Safety week on 11th January, 2016 with an aim to tackle the growing number of road accidents in the country.
 In 2014, about 5 lakh road accidents claimed more than 1.4 lakh lives. This is a whopping 388 deaths per day and 16 deaths per hour.
The worrying aspect of these numbers is that its increasing each year.
85% of the victims are Men
Of the 1.41 lakh deaths due to road accidents in 2014, more than 1.2 lakh of them are men, about 20000  women and 17 transgender.
More than 85% of the victims are men. Of the 1.41 lakh deaths,  5482 were in the age group of less than 14 years and 11418 were in the 14 to 18 year age group.
Almost 91000 victims were in the age group of 18 to 45 years, 24780 in the age group of 45 to 60 years. Close to 2/3rd of the of the victims are between 18 & 45 years.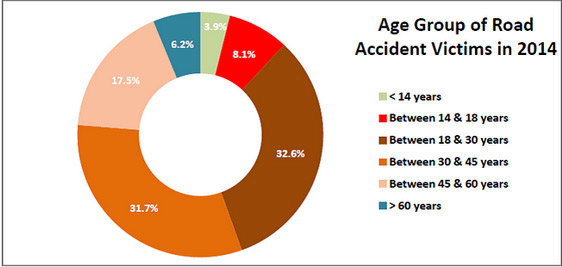 Even within men, it is the same story. Close to 2/3rd of the victims are between 18 and 45 years of age indicating that bulk of the road accidents claim lives of the driving population.
More than 50% deaths in just 6 States
Of the states, Uttar Pradesh, Tamil Nadu, Maharashtra, Karnataka, Rajasthan & Madhya Pradesh account for 53% of all the deaths. More than 10000 deaths occurred in 5 states and more than 5000 deaths in 10 states. Uttar Pradesh accounted for the highest number of deaths in 2014 with 16269 followed by Tamil Nadu (15190), Maharashtra (13527), Karnataka (10444) and Rajasthan (10287).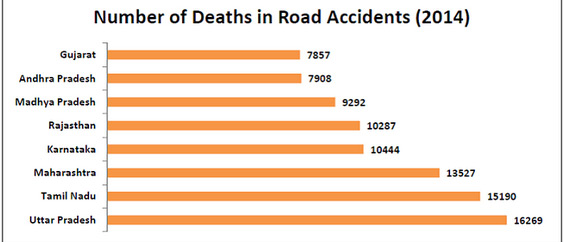 Tamil Nadu has highest deaths per a lakh population
If the population of the respective states as per the 2011 census is taken into consideration, Tamil Nadu has the highest deaths per one lakh population with 21 followed by Himachal Pradesh with and Goa with 20 each.
Haryana comes next with 19 deaths per one lakh population followed by 17 each in Andhra Pradesh (including Telangana), Karnataka & Punjab.
 
While Uttar Pradesh had the highest number of deaths, it had only 8 deaths per one lakh population, much less than the national average of 12 deaths per one lakh population.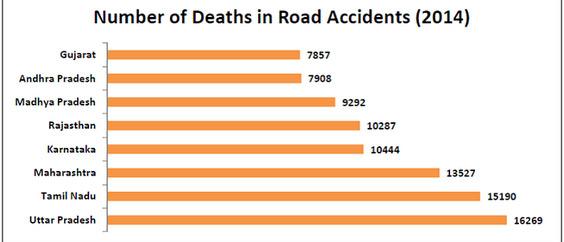 Delhi accounted for most deaths in Cities
In cities, Delhi accounted for the most deaths with 1332 followed by Chennai (1046), Jaipur (844), Bengaluru (729) and Mumbai (667). All the major cities figure in the top ten except Ahmedabad and Lucknow.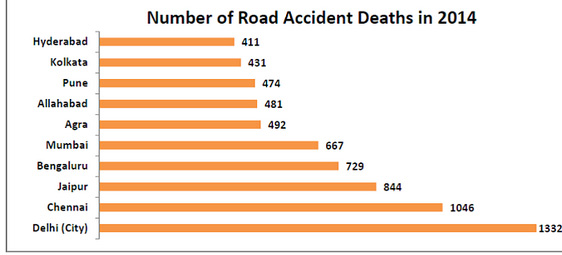 The Road Safety Week
The government on its part is organizing aNitin Gadkar, a national meeting of NGOs as a part of the Road Safety week.
The Minister for Road Transport & Highways, Nitin Gadkari said that a website is being launched to help in identifying black spots where accidents take place frequently.
He also announced an amount of Rs. 11,000 Crore being earmarked in the next five years to fix black spots across the country.
The minister announced that a Road Safety Authority will be constituted and Road Transport and Safety Bill will be placed shortly before Parliament. He asked people to take a resolve on road safety and bring down road accidents by 50% in next five years.
(Rakesh has been working on issues related to Right to Information (RTI) for a decade. He is a Data/Information enthusiast & passionate about Governance/Policy issues.)