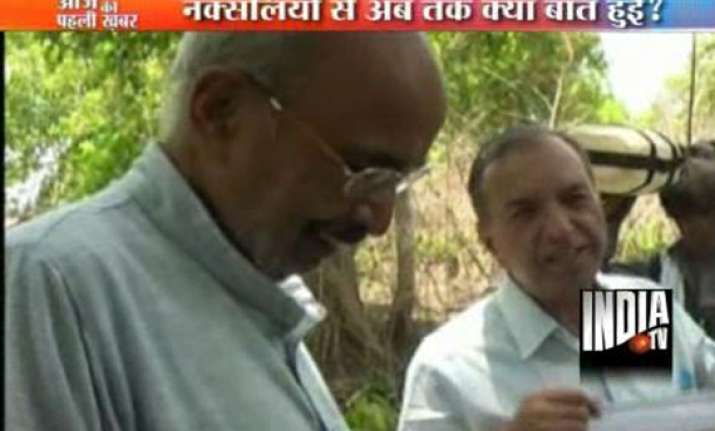 Raipur, April 29 : Two mediators, retired IAS officer B D Sharma and Prof Hargopal, have reached the Maoist hideout deep inside the Bastar forests to persuade them to release the abducted district collector Alex Paul Menon.
The mediators reached Chintalnar in a helicopter arranged by the Chhattisgarh government and were taken into the jungles on motorcycles by two journalists who volunteered for the job.
"Armed Maoist rebels made contact with the visitors deep inside the jungle and they took away the mediators," N. Baijender Kumar, Principal Secretary to Chhattisgarh Chief Minister  said.
The official did not expect Prof. Haragopal and Mr. Sharma to return immediately.
"It could take at least a day for them to return. We do not know how the Maoists would respond to the mediators,"  Kumar said. Menon has been held hostage by the Maoists for the last one week.
On April 21, the Maoists had shot dead two gunmen of  Alex Paul Menon  and abducted the collector.
Subsequently they demanded the release of eight Maoists  lodged in different jails of Chhattisgarh in exchange for him. Later, they demanded the release of another 15 Maoist cadres.
The government had so far not conceded any demand, but nominated Nirmala Buch, a retired Chief Secretary of Madhya Pradesh and S.K. Mishra, retired Chief Secretary of Chhattisgarh to discuss the issue with the two mediators selected by the Maoists.
There were secret parleys between the government and Maoist interlocutors.
"We do not know what offer was made by those representing the government. We are waiting for a response from the Maoists," Ramniwas, Additional DG, Chhattisgarh said.
Among the important leaders whose release was sought are Markam Gopanna, a member of the Dandakarnya Special Zonal Committee (DKSZC), an undertrial facing eight cases.
Nirmalakka, another Naxal leader is facing charges in as many as 81 cases, while Devipal Chandrasekhar Reddy is facing trial in 21 cases.
Other leaders like Shanti Priya Reddy, Korasa Sunny, Markam Sunny and Asit Kumar Sen are serving terms ranging from 10 years to 5 years after their conviction.