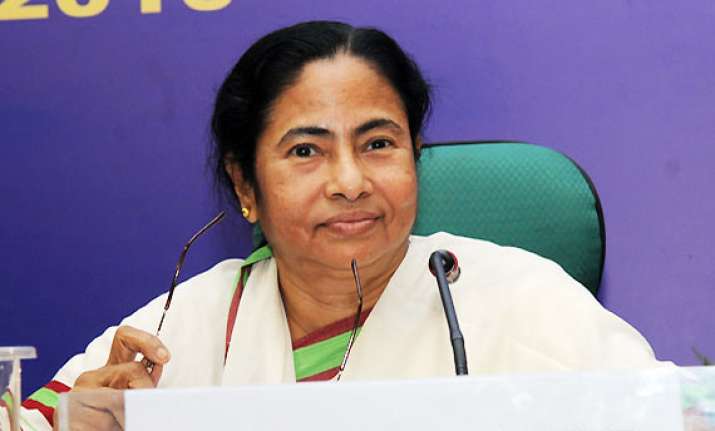 Kolkata, Nov 16: Talking tough after fresh Naxal violence in West Bengal, Chief Minister Mamata Banerjee today said Maoists were more dangerous than terrorists and warned that her government would not remain a mute spectator. 

The Trinamool leader also hit out at the Maoists saying they cannot talk peace and kill people.  Mamata's warning came a day after the Maoists offered to extend their unilateral ceasefire offer by four months if the operation by Joint Forces was kept suspended for the same period.

"You cannot talk peace and kill people. We cannot sit back and watch. We have to maintain law and order. We cannot suck our fingers when the killings go on," she said, adding Maoists were more dangerous than terrorists. 

Mamata, however, said, "I still feel good sense will prevail on them and they will come back to the mainstream. If they come to the mainstream, the state government will take responsibility. It is a duty of the government to give protection to people."

The Chief Minister was speaking at a meeting to mourn the killing of two Trinamool supporters by the Maoists at Balarampur in Purulia district on Monday. 

The joint security forces meanwhile stepped up anti-Maoist operations, carrying out searches and raids in Purulia and West Midnapore districts of junglemahal and recovered a huge quantity of arms, ammunition and explosive material. 

Two Insas rifles, 100 rounds of AK47 and Insas rifle ammunition, 60 kg of explosive materials, mines, gelatine sticks and fuse wire were seized from Purnapani, an area between Salboni and Lalgarh police stations in West Midnapore district, police sources said.

Mamata claimed some people were helping the Maoists with money and shelter.

"The government is keeping a watch on them," she said and urged people to stay vigilant about their activities, paticularly in Uttarpara in Hoogly district and activities of students of universities like the Jadavpur University. 

"I know all people are not bad, but you must keep a watch," Banerjee said.

District superintendent of police Praveen Tripathy said the searches followed the questioning of PCPA convenor Asit Mahato who was arrested from Gorneta village on November 13. 

Mahato, the prime accused in the Jnaneswari Express train disaster carrying a cash reward of Rs 1 lakh on his head, was arrested following information provided by five arrested Maoists.

Yesterday, 200 rounds of ammunition, 13 countrymade rifles and 85 kg of explosive powder were seized from Berabagdorha in Kotwali police station area by the joint forces in the same district, police sources said. 

In Purulia district, the joint forces under newly-sppointed Superintendent of Police, Counter Insurgency Forces, Manoj Verma, were searching for the Ayodhya squad of the Maoists who killed two Trinamool Congressmen Ajit Singh Sardar and his son Baku Singh Sardar at Ghatbera on Monday night, while two ultras were killed in a subsequent encounter. 

Searches were made at Balarampur, Arsa, Bagmundi and Bandwan police station areas, the sources said.