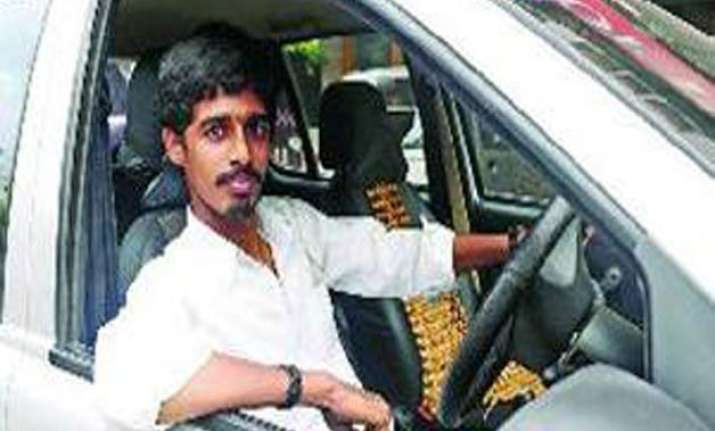 Chennai: While Prime Minister Narendra Modi recently completed a year in office with a plethora of schemes introduced and implemented on the ground level, there are some who are still waiting to reap the benefits of all these schemes.
R Arivazhagan, a BE Computer Science graduate in Chennai is one such person!  The 24-year-old is so over-strained by his needs that he has to work day in and night out endlessly to make his ends meet.
The night-shift techie works as a Systems Administrator at Cisco Systems till 2.30 am and then drives a cab during the day time from 7 to 5.
Hailing from a remote village in Dharmapuri, Arivazhagan says that IT is his career but it's the cab driver's job that helps him repay an education loan taken by his father to pay for his college studies at Paavai Engineering College, Namakkal.
Arivazhagan gets only Rs.9500 as a take-home from Cisco; almost a double of the same amount, he earns by driving a cab. Both of these together help him make his ends meet including the payment of Rs 6000 of monthly interest on the loan taken by his father.
His father had taken 2 lakh rupees loan from a usurer to pay for Arivazhagan's college fees which was almost 1.1 lakh per year.
"My parents grew vegetables, but with scarce rain, farming couldn't sustain our family of four," says Arivazhagan. "So my father worked as a labourer at construction sites in Bangalore."
Arivazhagan has a brother too – a diploma holder in Civil Engineering but he is also hunting for a job.
Arivazhagan gets only four hours sleep a day yet he says, "It's okay as long as this lets me repay the loan".
It's the lack of recognition, he says, that troubles him more. "Having studied in a government school in Dharmapuri, I know my limitations," he says. "I don't speak good English, but why should that be a reason to deny me a job in programming which I may be good at?"
As a future plan, Arivazhagan says, "I will make sure that my child gets an education in English".
He says that I don't see myself making a professional leap but I am sure that I will be better off with my efforts.