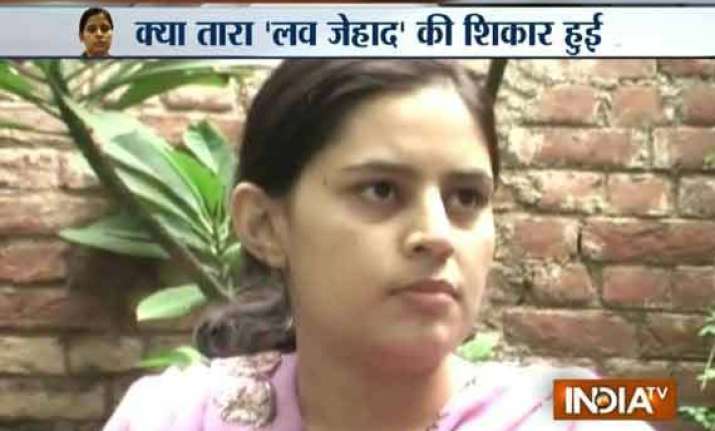 New Delhi: A Delhi court today granted three days transit remand of Ranjit Kumar Kohli alias Rakibul Hussain, accused of deceiving national shooter Tara Shahdeo into marriage and forcing her to convert to Islam, to Jharkhand Police.
Chief Metropolitan Magistrate (CMM) Satish Kumar Arora sent Kohli and his 65-year old mother Kaushlya Rani to transit remand asking the Jharkhand Police to produce them before the concerned court within three days.
"I have heard the submissions of Special Cell, Delhi Police and gone through the records that NBW have been issued against accused Ranjit Kumar Kohli and his mother by the CJM court, Ranchi.
"Transit remand is granted for three days," the CMM said.  The accused was produced in the court amidst tight security provided by the Delhi Police and the Jharkhand Police sleuths.
Ranjit was arrested in a joint operation by Jharkhand and Delhi Police Tuesday night from a place near the Delhi-Ghaziabad border.
Meanwhile, Raqibul claimed that he is actually a Hindu but he came in contact with some religious people and developed interest in reading 'Quran'.
During probe it was revealed that Raqibul's mother Kaushlaya was Muslim at her time of marriage and she converted to Hinduism. However, when her husband passed away, she re-converted herself to Islam.
According to sources, Ranjit was basically Hindu but in 2007 he came in contact with a cleric flowing which he converted his religion.
Tara, 23, who won the gold medal in the 2009 Eastern Zone championship, had alleged that Kohli beat her and forced her to convert to Islam after they got married in July.
Tara said that Ranjit kept her under confinement for one month and was forcing her to convert to Islam.
She also alleged that Ranjit made her starve and even changed her name to Sara, to which she protested strongly.
"He did not let me meet anybody. He threatened to beat me and even said that he will shoot me if I refuse to convert into Islam… he assaulted me very badly. I was forced to speak 'qubool hai' three times and also to say I am not a Hindu as I have changed my religion. I was even bitten by dogs," she said.
Tara said that Ranjit also forced her to get physical with him.
"He tortured me mentally and had sex with me on gunpoint," she said.
Later on, Tara decided to report her saga to family.
Tara said she met Ranjit on shooting grounds where he used to come to see her practice every day. Gradually they started meeting outside and decided to get married. The couple got married on July 7 this year.
She further said that Ranjit did not disclose that he was a Muslim and instead faked his identity.
"On the first night of the marriage, he called 20-25 Hajis. They forced me to convert to Islam," she said.