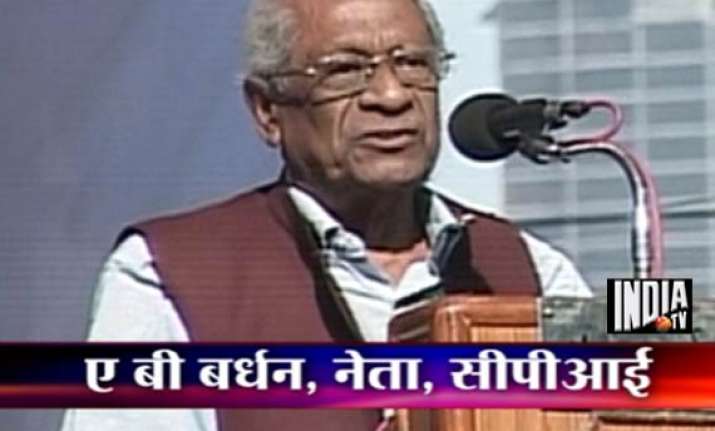 New Delhi, Dec 11: CPI General Secretary A B Bardhan today hit out at Team Anna for its rigid attitude on Lokpal issue, saying they should not think that only nine-ten people from their group are the repository of "all the wisdom" and represent the whole country.

While extending support to fundamental issues raised by Team Anna, Bardhan warned it against branding as "corrupt" those people who disagree with its views" and asked them to respect opinions of others as well.

"You should not think that the 9-10 people of yours are the repository of all the wisdom. There is no dearth of scholars in a country of 120 crore. Team Anna should also listen to others and have patience to listen to others," he said speaking at Hazare's day-long fast at Jantar Mantar here. 

Asking Team Anna to develop the habit of respecting opinions of others, he said it should have patience to listen to other shades of opinion.

"Team Anna should not expect that each and every word it made in Jan Lokpal Bill is accepted. They should show some flexibility," he said.

Echoing similar views, CPI(M) leader Brinda Karat also disapproved of any move by Team Anna to paint all politicians as corrupt.

"Terming all politicians as corrupt from this platform is not proper. The country needs good politicians also," she said.

Bardhan, however, complimented Team Anna for inviting leaders of political parties for the deliberations and said no one should question the relevance of the political class. 

"I am happy that you have invited leaders of the political parties. Better late than never. Do not underestimate relevance of the political class," he said.

Extending his party's support to a strong and effective Lokpal, he said passage of the Bill alone would not eradicate corruption from the country.

Bardhan said the Prime Minister should be brought under the ambit of the Lokpal saying, if there was corruption in PMO, then who will probe it.

The CPI leader also supported bringing Group C employees under Lokpal's purview. He said CBI's investigation wing for corruption should also be brought under Lokpal.