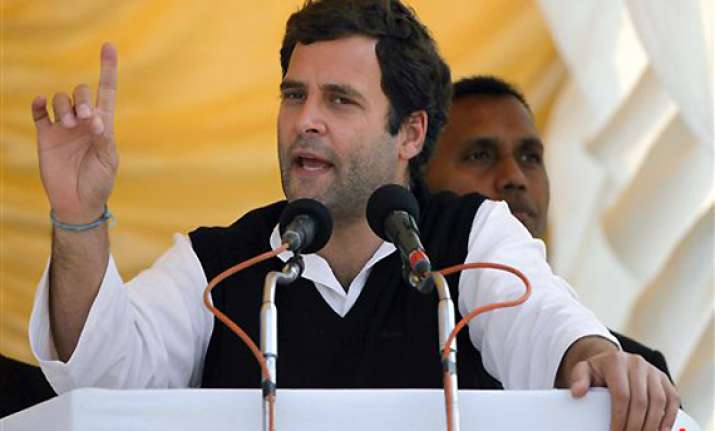 Amethi, Feb 11: Striking a cord with the farmers and people of his constituency, Congress leader Rahul Gandhi today gave them the credit for the political lessons that he has learnt.

The Congress general secretary said here that he has returned to his "home" after touring the entire state in the past two months.

"Whatever I have learnt is from my visits to the houses of farmers in Amethi... whatever I know has been learnt in Amethi and Rae Bareli," Rahul said at an election meeting here.

Referring to his extensive tour of the state, Rahul said that he has returned to his home Amethi after criss-crossing the state for two months.

Making a reference to his sister Priyanka Gandhi, who is camping here, Rahul said that she has told him to leave the elections of these two Lok Sabha constituencies to the people and and look after the entire state.

Appealing people to vote for Congress, Rahul said that he wanted a lot for these areas but since 2004 (when he first became MP) his one hand was tied as UP did not have Congress government. "To untie my hand press the button for hand (Congress symbol)", he said.

Stressing on the need for Congress government in UP, he said that once UP develops, Amethi and Rae Bareli would also progress.

Though Priyanka was busy in 'padyatras' and addressing meetings, her children Rehan and Miraya were present in Rahul's meeting.

Since Rahul arrived late for the meeting, the two young siblings spent the time playing marbles near the dais.

Referring to the backwardness and unemployment in Uttar Pradesh, the Nehru-Gandhi family scion said that people from the state have to go to other states and work in agriculture fields as there is a dearth of employment opportunities here.

Lashing out at SP chief for his promise of 24 hour power supply, Rahul asked the locals whether they were getting it when Mulayam Singh Yadav was the chief minister and they shouted back in the negative.

Blaming Mayawati government for loot and crime in the state, Rahul alleged that thousands of crores of rupees sent by the Centre to UP for development was eaten away by the elephant sitting in Lucknow.

Reiterating his promise of changing the state in five years, Rahul said that he would not budge till this was achieved and like Amethi and Rae Bareli he would make Uttar Pradesh his home.

Rahul Gandhi is scheduled to take night halt at the Munshiganj guest house here with his sister and her children.