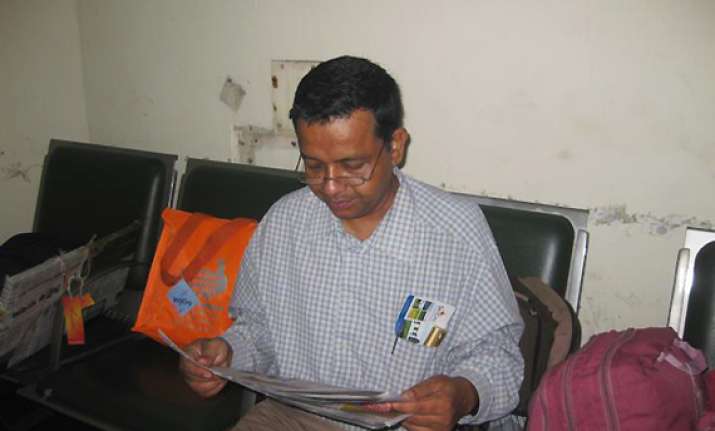 Kolkata, Apr 13:
Kolkata Police have arrested Jadavpur University professor Ambikesh Mahaptara on Friday morning on charge of forwarding derogatory cartoons representing West Bengal Chief Minister Mamata Banerjee.
"Professor Ambikesh Mohapatra has been arrested for spreading derogatory messages against respectable persons," Deputy Commissioner of Kolkata Police (south suburban division) Sujoy Chanda said.
He, however, refused to divulge the names of the 'respectable persons' who have been defamed in the e-mail.
He was arrested and taken to the East Jadavpur Police station early today. It is being said that the professor forwarded the mails to at least 65 people.
West Bengal Sports and Transports Minister Madan Mitra defended the arrest of  the professor and his neighbour, "Those who call themselves professors, if they do such ugly things, will never be forgiven. People of Bengal will give a fitting reply," said Mitra.
Ambikesh Mahapatra, a teacher with the Chemistry Department of the University, and his neighbour, Subrata Sengupta, were picked up on Thursday night by the police for allegedly forwarding cartoons of  Mamata Banerjee. Both were, later on Friday, granted bail.
The cartoon, based on Satyajit Ray's movie Sonar Kella, allegedly shows Mamata and Railways Minister Mukul Roy discussing how to get rid of party MP Dinesh Trivedi.
Mahapatra has been booked for defaming Mamata. Section 66 of the Information Technology Act, 2000 and Section 500, 509 and 114 of the Indian Penal Code have been slapped on the professor, who was arrested on charges of forwarding "derogatory images" of the Mamata to nearly 65 recipients and mocking her government policies.
Sources say it is quite an unprecedented incident and point out that Mamata is becoming increasingly intolerant to any incident that shows her in bad light, even if it is innocuous.