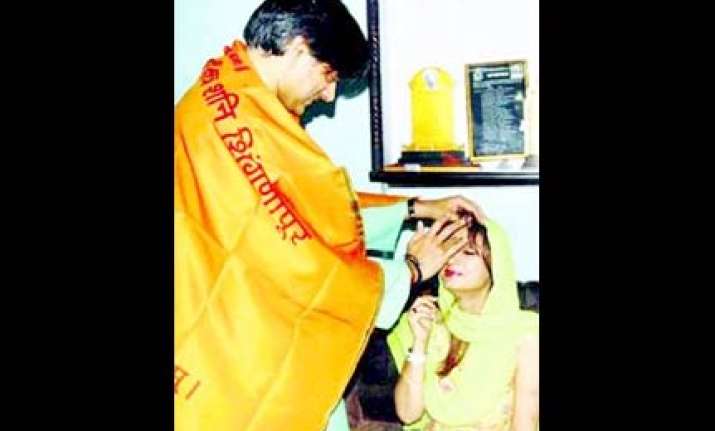 Bangalore: Former Union minister Shashi Tharoor will tie the knot with Dubai-based Sunanda Pushkar sometime in the last week of August.  
The week-long celebrations will begin on August 25th, culminating with a wedding reception on September 3 in Delhi.  The Mirror reported that the duo will be married in both the Malayalam and Kashmiri traditions.  
The marriage is likely to be solemnised at either the Sree Padmanabha Swamy temple in Thiruvananthapuram, or in Palakkad in Kerala.  
The couple will then fly to Dubai to wed again, this time in the Kashmiri tradition.  
Sunanda Pushkar hails from Kashmir. Sunanda is expected to be attired in the traditional and elaborate Kashmiri bridal dress. In the Kashmiri tradition the bride wears a headgear called Tarang and a wide belt called Haligandun around her waist.  
The groom usually wears a pheran and a waistband with a sword and embroidered shoes called Paazar. It is to be seen whether the flamboyant former minister will make an appearance in pheran and paazar.  
On Sunday, Tharoor and Sunanda went to the Sai Baba Temple in Shirdi and at the Shani Shingnapur nearby. After that Tharoor tweeted :"Wonderful visit 2 open-air temple to Saturn at Shani Shingnapur. Simple ritual in clean, pure surroundings.1can nvr know enuf of our culture."  
Sunanda, a businesswoman from Dubai, met Shashi in the emirate city after he resigned from the UN. She hit the headlines earlier this year when she was linked with Shashi during the
IPL
controversy.