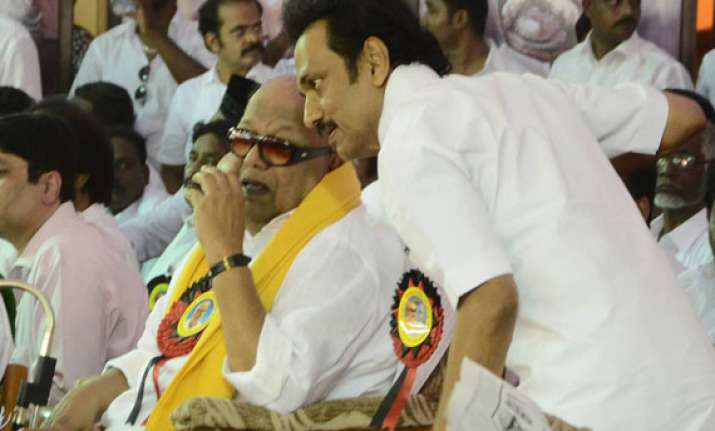 Tiruchirapalli (TN): Spelling out riders for prospective allies including DMDK ahead of Lok Sabha polls, DMK patriarch M Karunanidhi on Sunday night said those parties that support the stalled Sethu Samudram Project and oppose communalism were welcome to join its alliance.
Addressing the party's tenth State level conference here, Karunanidhi said the present alliance inclusive of Indian Union Muslim League, Viduthalai Chiruthaigal Katchi and Manithenya Makkal Katchi, who were "committed" to secularism and social justice, could be expanded to a bigger coalition with parties that accept the Sethu Samudram Project.
Accusing Chief Minister Jayalalithaa yet again of stalling the Sethu Samudram Project as it was "initiated by the DMK regime," he wondered how her party which was named after Anna could oppose the late leader's dream project.
Stating that several projects started during his regime including the equitable education plan were put on hold after Jayalalithaa assumed office, he said the education plan was resumed only after the intervention of courts.
Accusing Jayalalithaa of adopting double standards in the Cauvery issue, he alleged that she was "dragging the case" related to disproportionate assets against her in a Bangalore court.
Earlier, he launched a party website, which witnessed a huge turnout of party workers.