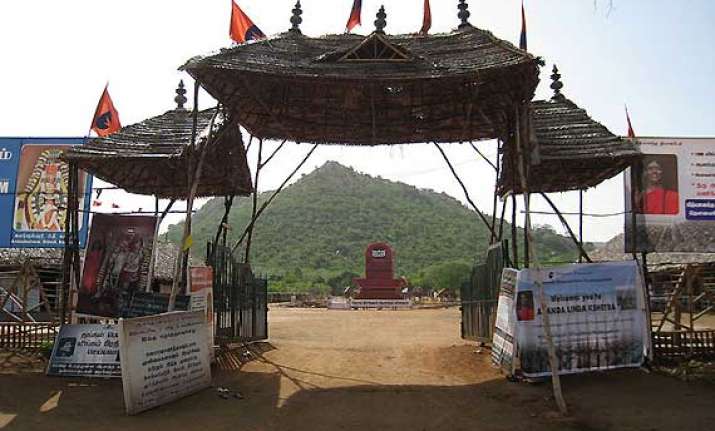 Bangalore, Jun 9: The Karnataka government was planning to take over the ashram of controversial self-styled godman Nithyananda at Bidadi near here taking into view alleged objectionable activities taking place there, Law Minister Suresh Kumar said today.
"The government is mulling to take control of the administration of Nithyananda Dhyanapeetam situated at Bidadi for alleged objectionable activities taking place there," he told reporters at Dharwad, over 400 km from here.  
He said the government was also planning to appoint an administrator for the Nithyananda Dhyanapeetam, located in Ramanagara district.
Kumar's comments came in the wake of a clash between activists of a Kannada organisation protesting against Nithyananda and his disciples at the ashram yesterday.  
The protests broke out in the backdrop of recent allegations by a US-based woman that she was sexually abused by him for five years, a charge denied by him.  
Earlier, police had registered two cases against Nithyananda and others in connection with an altercation between his followers and a section of media during a press conference at his ashram on June 7.
Nithyananda is already facing criminal charges, including rape, after a slew of complaints were filed against him in 2010 after some local TV channels telecast purported videos of the self-styled godman in a compromising position with an actress.
Suresh Kumar said he would discuss the issues concerning Nithyananda ashram with Chief Minister D V Sadananda Gowda and Home Minister R Ashok.
Amid the developments, District in-charge Minister C P Yogeshwar visited the ashram area today, SP Anupam Agarwal said.
Meanwhile, protests against Nithyananda were held in several places across the state.
In the city, journalists staged a protest demanding action against those involved in the alleged assault of a TV reporter, shouting slogans against Nithyananda.  
The agitators, who burnt an effigy of Nithyananda, also demanded a thorough probe into the various sexual assault cases that have been filed against him so far.  Similar protests by pro-Kannada organisations were held in Davanagere, Mysore and Bellary.
In Bellary, agitators burnt an effigy of Nithyananda and submitted a memorandum to District Commissioner Amlan Biswas.  
Agarwal said police were investigating into the altercation and appropriate action would be taken against those found guilty.
He said the whereabouts of Nithyananda was not known yet.  The SP said Yogeshwar had directed him to submit a detailed report on the June 7 incident to Deputy Commissioner Sriram Reddy.