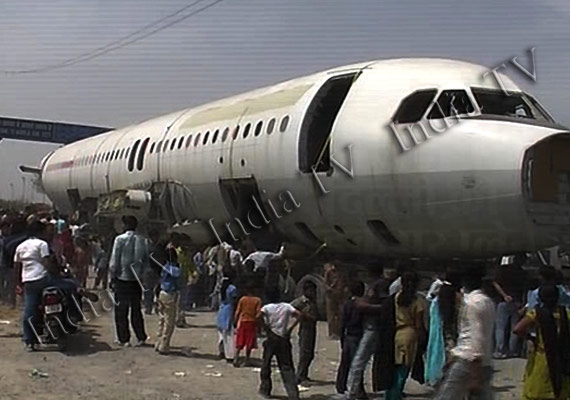 New Delhi, Mar 25: The junk Airbus A320 bought for Rs 18 lakh  from Air India by a Pitampura based  scrap dealer Rakesh Dixit ultimately reached its destination - the Sai Baba temple on Alipur Main Road on Sunday morning.
The Airbus scrap was held up at Narela on Saturday morning after it caused huge traffic snarls with  hundreds of onlookers obstructing the path of the truck trailer carrying the aeroplane scrap.
The  18-wheel 150-feet long  trailer proceeded last midnight towards Alipur and reached the Sai Baba temple this morning.
An elated priest of the temple Pandit Surendra Mishra said, Sai portraits will be kept inside the plane and prayers would take place.
Rakesh Dixit had got the temple built several years ago through a trust. He decided to buy the Airbus scrap from Air India to create, what he calls, a museum.
Dixit says he bought the aeroplane scrap from Air India two months ago for Rs 18 lakhs, but he got permission to remove it only on Friday.
The Airbus A320 is  125 feet long  and 114 feet wide and weighs  26 tonnes. The wings alone measure 100 feet.  The seats  and other fittings were removed before the auction.
Dixit says it will take at least six months  to make the aeroplane Sai Museum at a cost of Rs 10-15 lakh additionally.
The Airbus A320 was grounded after serving Air India for over 20 years.