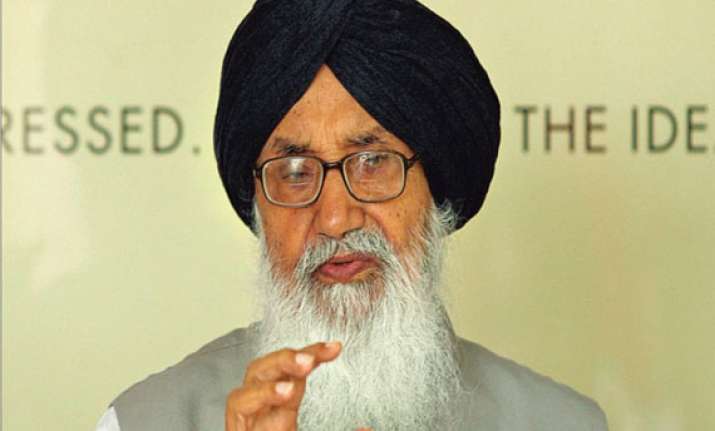 Chandigarh: Launching the Prime Minister's Jan Dhan Yojna in Punjab, Chief Minister Parkash Singh Badal today called upon the bankers to liberally sanction loans at lower interest rates to the poor and economically depressed sections of the society to ensure their financial autonomy.  
Addressing the beneficiaries after the launch here at the Guru Nanak Dev Bhawan, he said bankers could play a pro-active role in bringing down the existing exorbitant rates of interest on the loans advanced to the poor and underprivileged strata of the society.
Badal said the intent and purpose behind the concept of nationalisation of the banking sector could only be served meaningfully if majority of economically deprived sections of society were propelled towards financial inclusion.
Prime Minister Narendra Modi today launched his government's mega scheme 'Jan Dhan Yojana', declaring that it was aimed at eradicating financial untouchability by providing bank accounts to the poor.
On the inaugural day, a record 1.5 crore bank accounts were opened across the country, the largest such exercise on a single day possibly anywhere in the world.
Hailing the scheme which was the brain child of the Prime Minister Narendra Modi to ameliorate the lot of poor and disadvantaged sections, the Chief Minister said that it would certainly prove to be a milestone in transforming their destiny, which were till now leading a life in penury.  
He announced that Punjab would also lead the nation in accomplishing the target of opening saving accounts under the scheme much before the national deadline of January 26, 2015.  
The Chief Minister, while highly appreciating the firm commitment and dedication of Modi, said this scheme would surely act as a catalyst to encompass the majority of country's populace within the ambit of banking fold.  
Giving sole credit to Prime Minister for this "historic decision", he said "it was unprecedented in the history of Indian polity that a pro-poor initiative of such vast magnitude had been swiftly implemented with strong political will and determination."
Badal further said this was evident from the fact that the scheme was formally announced by the Prime Minister during his address on Independence Day from the ramparts of Red Fort and today exactly after 13 days it has been launched across the country in true letter and spirit.
On the occasion, the Chief Minister handed over banking kits to 50 beneficiaries as a token of scheme's launch.