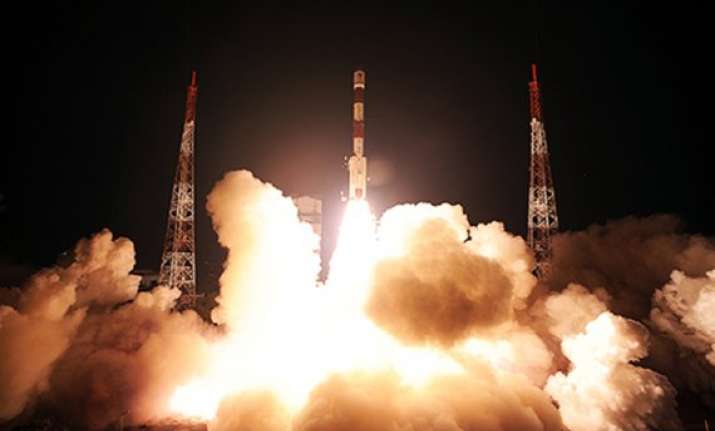 Sriharikota (AP): India successfully launched IRNSS 1C on board ISRO's PSLV C26 rocket from the spaceport here at 1.32 am today, moving a step closer to setting up the country's own navigation system on par with Global Positioning System (GPS) of the US.
IRNSS 1C is the third of the series of seven satellites ISRO is planing to launch to put in place what is called the Indian Regional Navigation Satellite System.
Lifting off from the First Launch Pad here exactly at 1.32 am the rocket painted a golden brush of flames in the night sky and was a visual delight for onlookers.
Twenty minutes after the launch, the launch vehicle successfully placed the 1,425.4 kg weighing satellite on the intended orbit.
ISRO has aimed to launch the satellite into a sub Geosynchronous Transfer Orbit (sub GTO) with a 284 km perigee (nearest point to Earth) and 20,650 km apogee (farthest point to Earth) with an inclination of 17.86 degree with respect to the equatorial plane.
"India has successfully launched IRNSS 1C. The entire ISRO team deserves congratulations", ISRO chairman K Radhakrishnan said after the launch.
He also thanked the entire team that worked behind for the successful launch.
This was the seventh time ISRO was using an XL version of the PSLV rocket for its missions.
The mission life of the 1,425,4 kg is 10 years. The launch of PSLV 26 carrying IRNSS 1C was actually scheduled on October 16 but the countdown was postponed following some technical reasons.