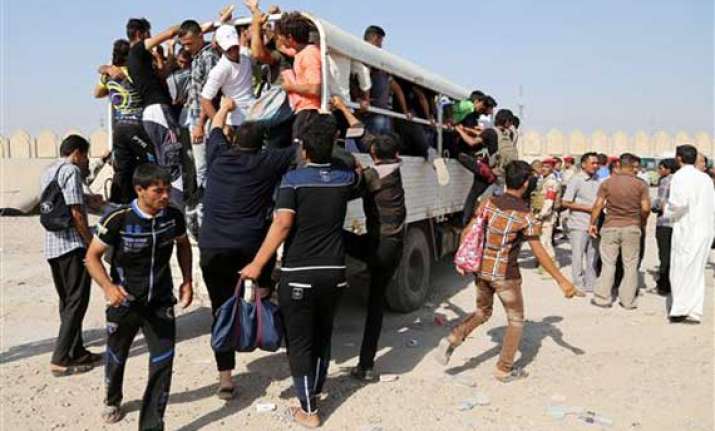 New Delhi: India Thursday said the 40 Indian workers abducted in strife-torn Iraq are safe and told their distraught families that the "very best" efforts are going on to have them freed.
External Affairs Minister Sushma Swaraj told a delegation of families of seven of the abducted men that all 40 workers are safe but did not disclose where they are being held.
The government is making all possible efforts to free the construction workers seized in Mosul, one of the major northern Iraqi cities overrun by Sunni insurgents.
"I am personally mulling over all options. The government is making all kinds of efforts. We are not leaving any stone unturned," Sushma Swaraj told reporters here.
"The 40 men are safe... When the situation normalizes, we will try to get them released," she told the delegation of worried families that was accompanied by Punjab Chief Minister Parkash Singh Badal.
She said the men, who worked for a Turkish construction company and were mostly from Punjab, are being held in a government building.
A spokesperson for the family members said the minister told them that the workers were abducted while being taken to a safe place following the outbreak of fighting in Mosul.
"The minister said blank passports and tickets were being issued to them so that they can be brought back when they are released," said Manjit Singh G.K., president of the Delhi Sikh Gurudwara Management Committee, who was part of the delegation that met Sushma Swaraj.
India has sent to Baghdad Suresh Reddy, who was envoy to Iraq till a few months ago, to tap his extensive contacts there to ensure an early release of the Indians.
Sushma Swaraj said earlier that she is "personally supervising" the rescue efforts and assure the families that the government will "make every effort" for their release.
Congress president Sonia Gandhi Thursday wrote to Prime Minister Narendra Modi urging him to intensify diplomatic efforts to secure the early release of the 40 Indians, and to "act swiftly" to evacuate all Indians from the affected areas and ensure their safe return.
"I urge you to intensify all diplomatic efforts required to ensure their safety and secure their release," she wrote, pledging her party's backing.