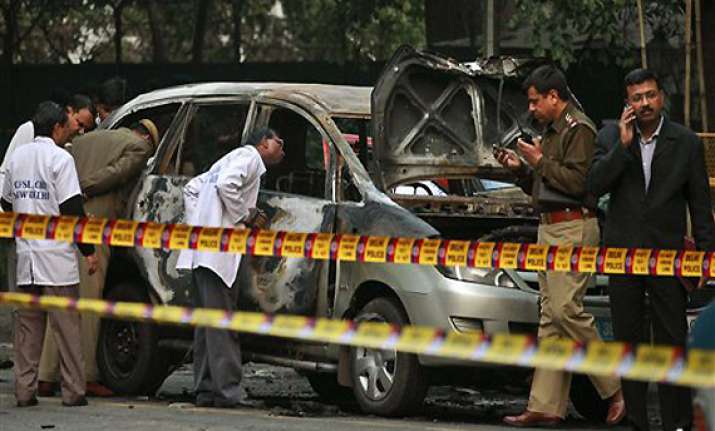 New Delhi, Feb 14: Investigators were today groping for clues into yesterday's bomb attack on an Israeli embassy car here even as Government saw a "well-trained" hand behind the terrror strike but refused to blame any country.

Sleuths scanned CCTV footages for clues and sources said police were probing all angles including whether any Iranian living here was involved and any outside help was received for carrying out the attack here for which Israel has blamed Iran.

Tal Yehoshua(40), wife of a Israeli Defence Attache, who herself is a diplomat and working in the mission, was critically injured in the explosion and underwent surgeries at the private Primus hospital to remove splinters from her spine and liver. She was among the four persons injured.

"It is quite clear that a very well-trained person has committed this attack. There is reason to believe that the target was the Israeli diplomat's wife and, therefore, one has to proceed on the basis that it was a terrorist attack," Union Home Minister P Chidambaram told reporters.

"I am not pointing a finger at any particular group or any particular organisation but whoever did it, we condemn it in the strongest terms," he said.

Echoing Chidambaram, Union Home Secretary R K Singh said there was no evidence till now to suggest involvement of any country in the attack on the Toyota Innova vehicle.

"We have no evidence to name any country. It's premature to take any country's name," he told reporters when asked whether there was an Iranian hand.

Singh said the investigators were yet to zero in on people behind the crime and no material has suggested involvement of any particular country.

"We don't have any idea who planted it. There is no material to show involvement of any country. The perpetrators behind the attack will be known only after the investigation is completed," he added.

Delhi Police Commissioner B K Gupta said security agencies were also seeking information from Georgia and Thailand on the blasts there.

On investigations, Gupta said, five persons were detained on suspicion but were let off after investigations. "One person approached us on his own after he was captured on CCTV in front of the Israeli Embassy," he said.

Gupta said Delhi Police was seeking CCTV footages from Israeli Embassy and Canadian Embassy which was close to the incident site.

"We have asked for CCTV footage for the past 7-8 days from Israel Embassy. We sought the footage from Canadian Embassy also as it was close to the incident spot," he said adding the attacker might have recceed the area.

Almost ruling out the hand of Indian Mujahideen in the attack, he said it could not be a normal terror module which one had witnessed here.

"The attacker was very well trained. He managed to escape from the spot within a few seconds and without sustaining injuries," he said.

Gupta also said police have recovered magnetic pieces and explosives.

Asked about the eye-witness account, he said there was only one eye-witness and that the Israeli Embassy official or her driver did not see the motorcyclist.

"We are yet to record the statement of the Embassy official. Once she recovers, we will do that. The eye-witness has told us that the attacker might have taken a left turn from the traffic signal where the incident took place," he said.

Meanwhile, a team of the National Investigation Agency inspected the damaged vehicles.

Sources said investigators were now awaiting for CFSL report.