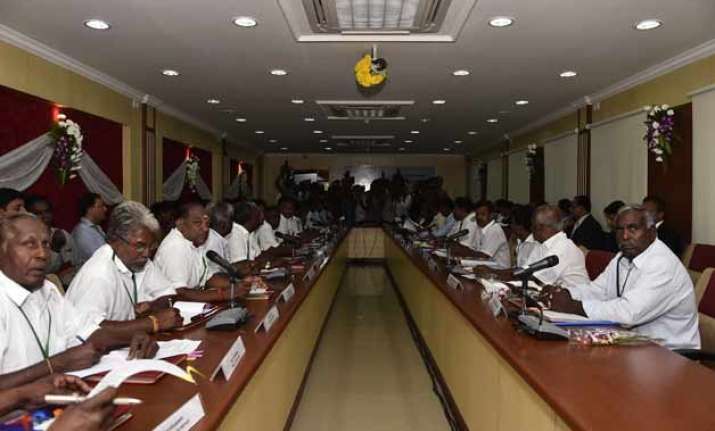 Chennai/New Delhi: Fishermen from India and Sri Lanka ended their third round of talks here on Tuesday over their dragging row over fishing rights, with both sides making some progress.
Speaking to the media after the meeting, T. Sathasivam from Sri Lanka said: "The talks ended amicably. The Indian fishermen have given a seven-point request for our consideration."
He said for the past nearly 30 years, at the height of the ethnic conflict in Sri Lanka, Tamil Nadu fishermen fished in the island nation's waters using nets banned by Colombo.
Sathasivam said a conference of fishermen in Sri Lanka's north-eastern province would be held in April where the seven points would be discussed.
The decision taken at the conference would be conveyed to the governments of both countries, he said.
Sathasivam said some agreements were reached at the talks but he did not elaborate.
A representative of the Indian fishermen said they had requested the Sri Lankans to let them to fish in Sri Lankan waters for 83 days in a year.
He promised that the Indian fishermen would not use nets banned by Sri Lanka.
Sri Lanka and Tamil Nadu are separated by a narrow strip of sea. Colombo routinely arrests Indian fishermen for intruding into Sri Lankan waters.
The proposals put forward by the Indian fishermen would be considered by the Sri Lankan counterparts, external affairs ministry spokesperson Syed Akbaruddin said.
The talks were held even as Colombo on Monday ordered the release of 54 Indian fishermen arrested on Sunday by the navy for allegedly poaching in Sri Lankan waters.
Two earlier rounds of talks failed to produce results.
Prime Minister Narendra Modi said during his visit to Sri Lanka this month that the "complex issue" of fishing rights involves the livelihood and humanitarian concerns on both sides.
He urged both countries to handle the issue from this perspective.