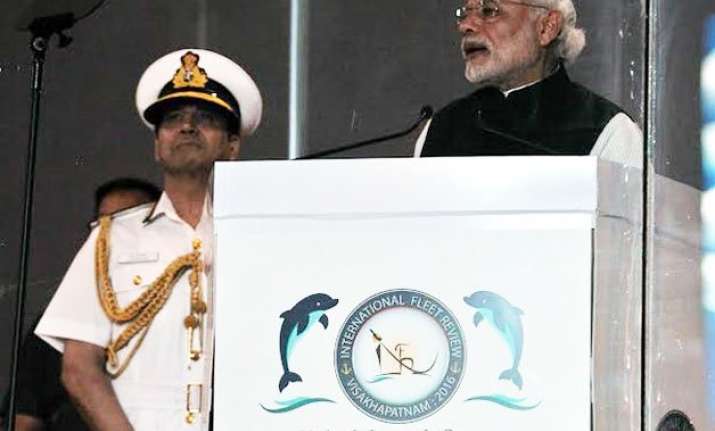 Visakhapatnam: Prime Minister Narendra Modi today announced that India will host the first-ever Global Maritime Summit in April this year.
Present at the International Fleet Review (IFR) in Vishakhapatnam, PM Modi recounted how India has maintained an extensive network of maritime links since the days of Indus Valley Civilization.
"Oceans are lifelines of global prosperity. They present us with enormous economic opportunities to build our nations," he said. About 50 navies from across the world participated in the IFR, the second of its kind.
Focussing on the future of the Oceans, he said, "Indian Ocean Region is one of my foremost policy priorities and I see youth in the coastal areas as our true assets. They have a natural and deep understanding of the Oceans."
"Given the scale and complexity of modern day challenges international maritime stability cannot be the preserve of a single nation. Navies and maritime agencies of the world need to work together and engineer virtuous cycles of cooperation," said PM Modi
"We must use sea to build peace & friendship and curb conflicts, respect & ensure freedom of navigation & cooperate not compete," he added.
PM Modi also reiterated India's growing prowess in the economic sphere of things. "India's quest for economic prosperity through oceans is a part of our larger efforts to transform India. We are not just a bright spot in the global economy, regionally and internationally we are a pillar of stability and growth," he said, adding that there was a sense of great "optimism, enthusiasm and a can-do mindset" within India.
"In a week's time, on February 13, we shall hold 7-days of global engagement under Make in India in Mumbai. Of all Indian Naval ships participating in Fleet Review, at least 37 are 'Made in India', a number that will surely rise in coming years," he said, pushing for indigenisation under India's manufacturing push.
Expressing his happiness on having witnessed the international event, Modi said, "For me, personally witnessing the harmony among best of international Navy has been a rewarding experience."
Modi also thanked Andhra Pradesh Chief Minister N. Chandrababu Naidu for his support to the event. "My sincere gratitude to Chief Minister Chandrababu Naidu for his strong support for the international event," he added.