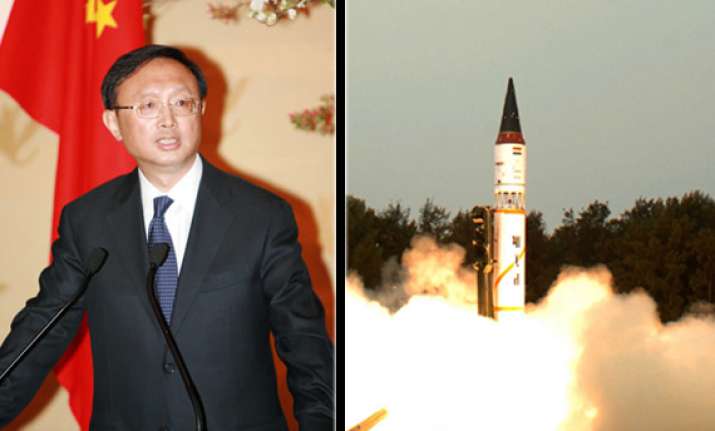 Beijing/New Delhi, Apr 19: Reacting cautiously to India's test of Agni-V missile, China today said the two countries are not rivals and enjoy "sound" relations though the sources in the Chinese establishment feel that the launch can give rise to another round of arms race in the region.  
"China has taken note of reports on India's missile launch. The two countries have sound relationship.  During the (recently held) BRICS meeting (in Delhi) the leadership had consensus to take the relationship further and to push forward bilateral strategic cooperative partnership," Chinese Foreign Ministry spokesman Liu Weimin told a media briefing in Beijing when asked about the launch.  
In Delhi, the diplomatic sources in the Chinese embassy said the "Agni-V launch can give rise to another round of arms race in this part of the world."
They were also critical of the media commentary on the successful launch of the nuclear capable 5000 km-range Agni-V missile, saying it sounded provocative.  
Asked whether China was concerned as most of the country would come under the Agni's range, Liu said in Beijing that "both the countries are emerging powers. We are not rivals. We are cooperative partners. We should cherish the hard earned momentum of cooperation."
To another question whether it would affect the regional stability, he said "we hope Asian countries can contribute to peace and stability."
However, China's state-run Global Times came out with a strong editorial criticising the launch, claiming that the Chinese nuclear power is more "stronger and reliable" and New Delhi has "no chance" to catch up.
"India should not overestimate its strength. Even if it has missiles that could reach most parts of China, that does not mean it will gain anything from being arrogant during disputes with China," Global Times, the influential tabloid of China's ruling Communist Party, said in its editorial.  
Known for its scathing attacks on countries that have disputes with China, the daily said "India should be clear that China's nuclear power is stronger and more reliable."
"For the foreseeable future, India would stand no chance," it said in the editorial titled "India being swept away by military delusion."
"India should also not overstate the value of its Western allies and the profits it could gain from participating in a containment of China. If it equates long-range strategic missiles with deterrence of China, and stirs up further hostility, it could be sorely mistaken," it said.  
The paper noted that India has moved rapidly in developing missile technology.
"It successfully launched the Agni IV with a range of 3,500 km last year. Indian public opinion has long seen China as its reference point for military development.  
"It seems India's path for boosting its military strength has not met too many obstacles. India is still poor and lags behind in infrastructure construction, but its society is highly supportive of developing nuclear power and the West chooses to overlook India's disregard of nuclear and missile control treaties," the editorial charged.
The West remains "silent on the fact that India's military spending increased by 17 per cent in 2012 and the country has again become the largest weapons importer in the world," it said, without referring to China's own whopping defence budget of USD 106 billion listed for this year.