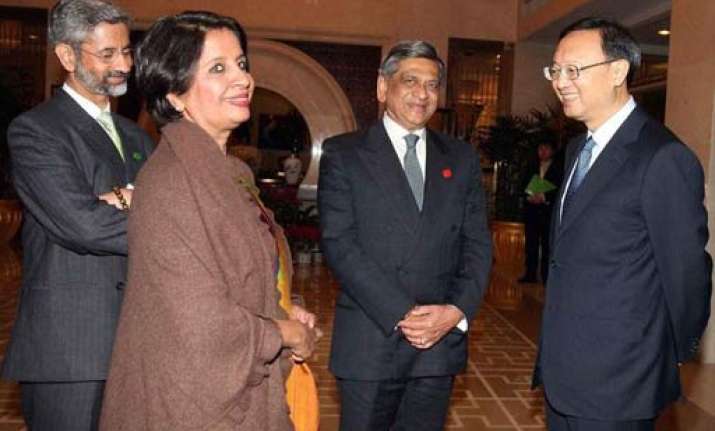 Foreign Secretary Nirupama Rao on Tuesday raised concerns over China starting construction of a dam on the Brahmaputra river, during the fourth round of the two countries' strategic dialogue which was held here.
Ms. Rao said she was assured by Chinese Vice-Foreign Minister Zhang Zhijun that the 510 MW hydropower project in Zangmu "was not a project designed to divert water" and would not affect "the welfare and availability of water to the population in the lower reaches of the Brahmaputra".
China also expressed its willingness to continue exchanging hydrological data and flood management through the joint expert-level mechanism set up by the two countries in 2003. "We've had four expert-level meetings so far," said Ms. Rao. "That process will be ongoing."
During the wide-ranging four-and-a-half hour strategic dialogue, India voiced concerns over China's accelerated involvement in communications and road projects in Pakistan-occupied Kashmir (PoK). The Chinese side reiterated its position that the Kashmir issue was one for India and Pakistan to resolve, and indicated no change from its current policies.
Ms. Rao said India also raised China's nuclear cooperation with Pakistan. The two countries have recently accelerated their nuclear engagement, signing deals for two nuclear reactors in March and recently initiating talks over a fifth 1 GW power reactor. The deals have triggered international concerns over non-proliferation as they go against guidelines of nuclear trade which do not allow the transfer of technology to countries which have not signed the Nuclear Non-Proliferation Treaty (NPT). India took on a range of commitments before its civilian nuclear cooperation with the United States could proceed.
"I believe they understood the depth of our concerns," said Ms. Rao.
On the issuing of stapled visas to Indian citizens from Jammu and Kashmir, the Foreign Secretary said she told Chinese officials "this was an issue that had triggered serious concerns in India" and was "an issue of our sovereignty and the right of all our citizens to be treated at par and equally".
The two countries also discussed the question of United Nations Security Council reforms. China reiterated its position, one it has voiced since 2008, that it was willing to hold consultations with India on the issue. "But we briefed them on President Obama's visit to India and the U.S. position as expressed on UNSC reforms," said Ms. Rao, referring to Mr. Obama's endorsement of a permanent seat for India
Beyond these specific concerns, Ms. Rao said the dialogue mechanism gave both countries an opportunity for a "candid" exchange of views on a whole range of strategic issues, from the situation in Afghanistan and China's engagement with countries in South Asia to India's relationship with China's East Asian neighbours.
The two countries also discussed possible agreements that could be signed during Chinese Premier Wen Jiabao's visit to India in mid-December.
Indian officials said they made the point during the talks that India was as much an East Asian country as a South Asian one, indicating that its policy of intensifying its engagement with East Asian countries would continue.
Ms. Rao said the four rounds of the strategic dialogue had seen the two countries' engagement significantly increase in depth, pointing to the rapid expansion in bilateral trade as an example.
"The matrix in which the relationship has been embedded has been expanding and evolving in a growth trajectory," Ms. Rao said. "The equilibrium [between India and China] is enhanced by all that."