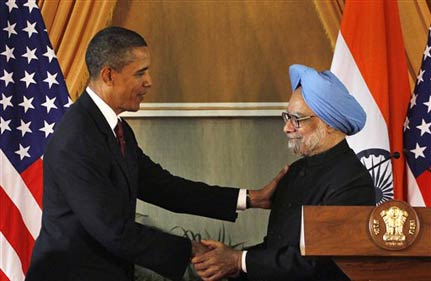 New Delhi, Nov 8 : India today asserted that it was not in the business of stealing American jobs, even as US President Barack Obama said that deals with India to create 50,000 jobs back home were aimed at assuaging citizens' fears.
"India is not in the business of stealing jobs from the US... outsourcing (work to India) has helped improve the productive capacity and productivity of America," Prime Minister Manmohan Singh said at a joint press conference with visiting US President Barack Obama at Hyderabad House here.
The two leaders committed to enhance the bilateral cooperation in technology transfer, enhancement of trade and investment flow to create jobs in the respective nations and raise the living standards.
Replying to a question on outsourcing, the US President, who earlier met Prime Minister Singh and held delegation level talks, said that both countries were operating on stereotypes that have outlived their usefulness and clarified that he hasn't raised the outsourcing bogey during this trip.
To a specific question on the purpose of his visit, Obama said part of the reason why he advertised creation of 50,000 jobs from deals signed in Mumbai during his visit, was to tell people in America why he spent so much time in India.
His visit came in the backdrop of electoral reverses in the US Congress for Obama's Democratic party, amid criticism of his economic policies and the President summed up the situation, saying that people were frustrated with high unemployment level and difficult economic conditions.
During his visit, over 20 deals worth USD 10 billion were signed between the corporations of the two nations.
Obama said the relationship between the two nations as a defining partnership of the 21st century and acknowledged India's emergence as a prominent and key player on the global stage.PTI