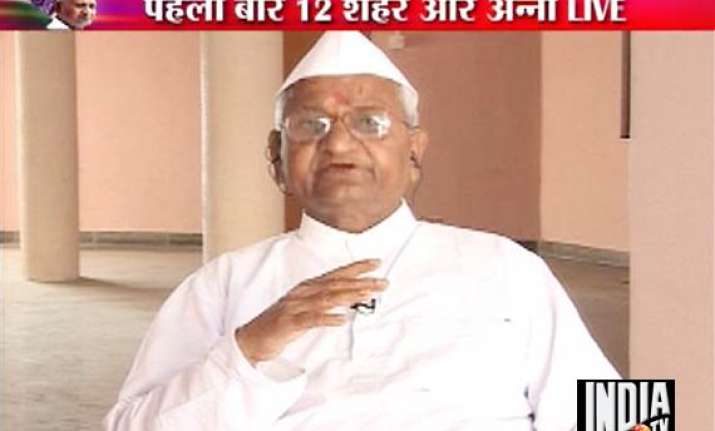 New Delhi, July 29: Activist Anna Hazare said on Friday that indefinite hunger strike was the only Gandhian option left before him to achieve  his goal for enactment of a strong Lokpal.
 
Replying to a question live from an India TV viewer from Jaipur , Anna Hazare said: "Indefinite fast wields tremendous power. There are other methods like morcha (processions), rallies,etc. but fasting is the most influential weapon.
 
"In my life I have fasted eight times, and got six laws made. These included Gram Sabha Act,  Right to Information,  government employees' transfer law, etc.
 
"If I sit on fast for at least 7 to 8 days, the entire country will stand up. This is called Satyagraha, as  Gandhiji said 'atma-klesh' (self-penance) will give relief to the masses", said Hazare.
 
The Gandhian activist lashed out at the government's Lokpal bill draft  saying that it was weak and meant to help the corrupt.  "The government does not want a strong Lokpal law. It wants a loose law.  The Lokpal bill was brought in Parliament eight times in the last 42 years, but was never passed."
 
Hazare said: "The government has committed fraud by not fulfilling its promise to place both drafts of the Lokpal bill before the Cabinet. It also committed fraud (dhokadhadi) by not placing 8-9 points raised in the Joint Committee meeting before the Cabinet as was promised".
 
When a questioner  from the studio asked why the government appears to be afraid of his agitation, Hazare said: " The govt is afraid because its  intention is dishonest (neeyat saaf nahin hai). The government thinks that it will lose power if a strong Lokpal is appointed. The government does not want a strong Lokpal".
 
Students, lawyers, actors and people from all walks of life  from Mumbai, Jaipur, Chandigarh, Haridwar took part in the live question-and-answer session with Anna Hazare.